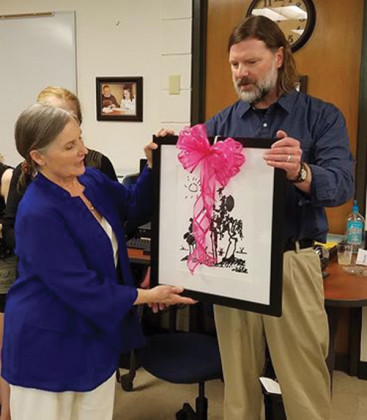 The Hortense Parrish Writing Center is a pillar of student success that provides a welcoming environment for students who want to develop a better understanding of the written word.
On most days, it is here that you will find Anna Clark, co-coordinator of the Writing Center and Instructor of English, fluttering around like a dove, full of joy and kindness and eager to assist all students.
"Mrs. Clark is one of the sweetest, most helpful people I've ever met since my time on Martin's campus," said Alexandria Miller, a senior communications major and a frequent visitor of the Writing Center. "She loves her job and is always willing to help."
Clark is retiring at the end of this semester after 35 years of teaching at UTM. Her Master's of Arts in English comes from the University of Missouri. Before teaching here, she had jobs in another higher education institution, public school education and in journalism.
In 1981, Clark became an adjunct professor for the English department, and became a full-time instructor in 1985. Putting countless hours of time and effort into her classes, Clark strived to help her students grow.
The following year, she became tenured and started to co-coordinate the Writing Center alongside retired faculty member, Jenna Wright.
"Anna Clark is the epitome of an outstanding teacher—respected and admired by colleagues and treasured by students," said Wright. "Her students are her legacy."
Through this position, Clark has helped countless students with a variety of writing assignments, created and facilitated workshops and managed all aspects of the Writing Center to ensure it is the best resource it can be.
As a professor, Clark primarily teaches first-year composition and advanced grammar. While she is only teaching one grammar course this semester, she has left an impact on many students throughout the years.
"[Mrs. Clark is] one of those gems at the university—one of those people you are blessed to know," said Emma Massey, a junior Secondary Education English major. "Her enthusiasm and care and wisdom has been infectious. …It's been influential on my time here as a student and my desire to become a teacher."
When she is not teaching English classes or managing the Writing Center, Clark can be found participating in the Martin community in many different ways. In the past, she helped lead a local writers guild for approximately 17 years. She has been an active member of the Martin Kiwanis Club for many years, and currently serves as the Assistant Secretary. She also serves as the secretary for the Philharmonic Music Guild of Martin. She enjoys fulfilling secretary positions for organizations that she is passionate about because of her love of writing creative minutes and keeping everything organized. She also contributes to the university's Phi Kappa Phi chapter as the Nominating Committee chair.
Through all of her contributions on and off campus over the years, she has won several awards and accolades. Some of particular noteworthiness include the Coffey Outstanding Teacher Award of 1999, the University of Tennessee National Alumni Association Outstanding Teaching Award of 2004 and the Outstanding Advisor Award of 2015.
"It is difficult to summarize everything that she has done for this university during her career, but I will say that I can't think of anyone who cares more about UTM and our students than Anna Clark," said Dr. David Carithers, chair of the English and Modern Foreign Languages Department and current co-coordinator of the Writing Center. "We will miss her greatly."
Everyone seems to agree on one thing about Clark, and that is that there are not enough words to describe her impact on the UTM campus. It is clear that she will be dearly missed, and her beautiful smile and pivotal contributions will never be forgotten.
Retiring English instructor Anna Clark receives a gift from the Department of English and Modern Foreign Languages. Clark was honored during a recent reception and Dr. David Carithers, department chair, presented the gift (Photo Courtesy of Steve Flowers, Writing Center Consultant).