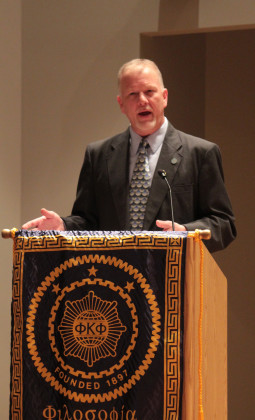 Phi Kappa Phi hosted its annual Muriel D. Tomlinson Memorial Lecture on Tuesday evening, Feb. 7.
Kevin Shell, assistant professor of theatre and director of UTM's Vanguard Theatre, was the evening's main speaker. His speech, titled "Improvisation: On and Off the Stage," discussed the importance of improvisational skills both in theatre and in the work environment.
Shell, who joined the UTM faculty in 2015, said that improvisation is an important skill set for people of all walks of life as a method for staying in the moment.
"Our lives are immediate," said Shell. "Improv skills are designed for right now, for this moment."
In his speech, Shell discussed the idea that improvisational skills are not simply a set of tools. Instead, he said that they serve as a set of guidelines to enhance one's interpersonal communication skills.
"Applied improvisation isn't a 'what,'" said Shell. "It's a 'how.' … I think it's safe to say that improvisation is a mindset, a skill set, and a how-to guide [to life]."
During the address, Shell emphasized the distinction between improvisation on stage and in more mundane environments. He also mentioned the importance of continuing to practice improvisational skills in order to constructively add to a conversation or situation.
Shell said that one of the main issues for people developing their improvisational skills for the first time is the fear of failure.
"Failure is a key part of learning," said Shell. "That's a good reason to practice these skills."
The annual address is hosted by Phi Kappa Phi in honor of Muriel Tomlinson, a member of the honors society, and longtime chair of the Department of Modern Foreign Languages until her retirement in 1976. Past speakers have included Dr. Roberto Mancusi, Associate Professor of Music; Dr. Richard Garlitz, Associate Professor of History; and Dr. Richard Robinson, Associate Professor of Communications.
(Pacer Photo/Sarah Knapp)