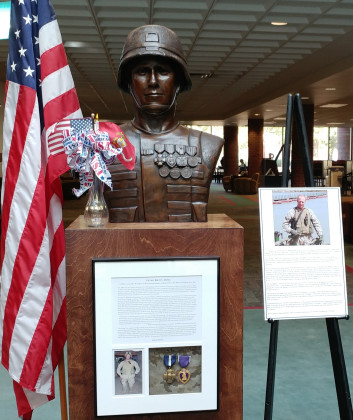 This Veteran's Day, Nov. 11, 2016, the History Channel will premiere a four-episode documentary titled "The Warfighters" at 8 p.m.
The documentary, produced by Peter Berg, will highlight first-hand accounts on the U.S. Special Operation Forces interaction in the global war on terrorism. More than 90 veterans participated in the making of the documentary. Stories of servicemen and women who lost their lives in final acts of valor will also be included. UTM Class of 1999 graduate, United States Marine Capt. Brent Morel, is one example.
On April 7, 2004, Morel was killed in action by hostile fire in the Al Anbar Province of Iraq. While escorting a 15-vehicle convoy, Morel's platoon experienced heavy fire from over 50 insurgents who were concealed in a secure location. The lead vehicle was hit by a rocket-propelled grenade while the others were attacked by mortar and gunfire rounds. Morel led his platoon across an open field and up a 10-foot-high berm towards the insurgent's position providing relief from the oncoming attack. This decision surprised the insurgents and allowed the marines to attack. Captain Morel was shot at close range and later died in his comrade's arms. His actions saved the lives of many that day. One year later, Morel was awarded the Navy Cross, the nation's second highest medal for battlefield valor, which was presented to his wife Amy Morel.
Dr. Alice Carls, professor of History and Philosophy, and advisor for the Skyhawk Veterans Association, makes honoring his memory a priority as more veterans join the association.
"His actions were heroic and I am very proud of him. The courage demonstrated in Iraq is the kind of courage needed to lead, " said Carls. "We all are extremely proud but the passage of time does not heal the sadness. I am excited to see his heroic actions being recognized because he deserves it."
She described Morel as a model student, always positive and present, and wishes that she had engaged him more in class.
A bronze bust dedicated to the Morel family from the Statues of Our Soldiers Foundation can be found in the Paul Meek Library. The Skyhawk Veterans Association also has placed a plaque in his honor in their meeting room.
In honor of veterans like Morel, the SVA will be conducting a Veterans Day service Friday, Nov. 11, in the Watkins Auditorium at 3 p.m. To further honor those that served, the Skyhawk football game on Saturday, Nov. 12 is recognized as the Military Appreciation game.