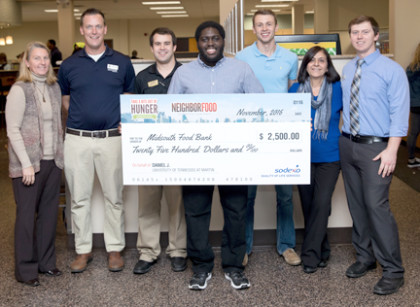 UTM sophomore Daniel Johnson selected the Mid-South Food Bank in Memphis to benefit from his recent win of Sodexo's TAKE A BITE OUT OF HUNGER National Sweepstakes at the beginning of November.
The prize money of $2,500 is given to the charity of each winner's choice.
Johnson is majoring in Hospitality and Food Service Managment and minoring in Psychology while calling Memphis home. He said he plans to take all he has learned and complete his degree so that he can fulfill his goals of managing his own restaurant someday. Until then, he said, he will continue to work hard for Sodexo and finish his classes at UTM.
The Mid-South Food Bank in Memphis was chosen for a very specific reason that is close to Johnson's heart. According to their website, the mission is, "To change lives by eliminating hunger in the Mid-South."  Johnson has volunteered there in the past through the Lindenwood Christian Church Life Center and this influenced his decision.
Sodexo selected four winners at random to donate to the charity of their choice. The opportunity was featured to students at more than 600 college and university campuses that are managed by Sodexo nationwide. The process to enter only required a student's basic info and charity of choice to be submitted online and took less than 5 minutes.
At UTM, Sodexo promoted this opportunity through Portal, at various campus events, and especially orientation. It was also open to all students at the university and is one of two sweepstakes offered per semester on the campus. Over the past three years, there have been three winners of this same award.