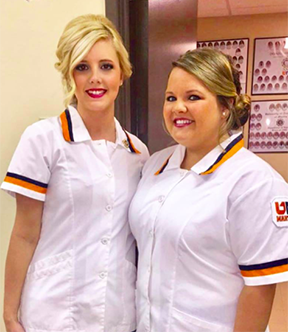 With over 400 declared nursing majors, UTM's nursing program was recently ranked in the top 10 in the state of Tennessee by RegisteredNursing.org.
Out of the 41 different programs that were evaluated, UTM was ranked eighth overall. This was based primarily on the passing rate of the National Council Licensure Examination. Those that pass the examination, taken three weeks after graduation, are able to practice entry-level nursing.  The 2016 class passed the NCLEX-RN with 100 percent passing rate.
"I am extremely proud of our students and the hard work they put into completing their degrees and preparing for the licensure exam," said Dr. Mary Radford, chair of the Department of Nursing.  "I want UTM graduates to continue to be known for their persistence and determination because these characteristics translate into successful nursing careers."
The UTM nursing program stands as the only basic baccalaureate program in nursing at a public institution outside of the Memphis area. The program has more than 900 hours of clinical experience across the state.
Students who declare a nursing major are challenged through curriculum and departmental expectations. Potential nursing students must apply to the program in the spring and pass the Kaplan Entrance Exam to be considered for program admittance. They may begin as early as their sophomore year and must also be CPR certified. Once a part of the program, students will take 71 hours of nursing courses and 52 hours of elective non-nursing classes. Nursing students must maintain a C average in their courses, which include pharmacology, acute and chronic, mental health, advanced healthcare and more.
"UT Martin Nursing Program is far from easy, but that is why I love it so much," said Morgan Acuff, a senior nursing student. "It's a challenge. You must work extremely hard, and your heart has to be in it 110%. This program, along with three years of clinical experience, has given me confidence that I will excel in my future as an effective, well-prepared nurse."
For more information on the UTM Department of Nursing, visit https://www.utm.edu/departments/nursing/ or contact the department at 731-881-7131 or email nursing@utm.edu.
Feature photo (from left): Nursing students Brittney Crowell and Caitlyn Brundige. (Photo Credit/Jacey Bomar)