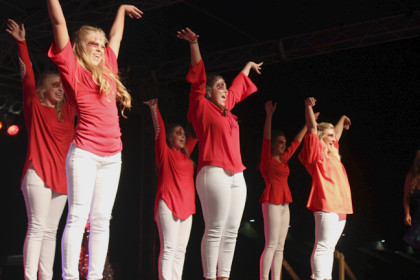 On Tuesday, Oct. 6, the Student Activities Council held their annual Lip Sync competition, a show filled with dance routines and flashy costumes.
This event consists of lip syncing in three divisions, open, sororities and fraternities.
The theme this year was Disney movies, and starting off the night in the open division was UTM Housing performing songs from The Little Mermaid with a creative spin using references and scenarios from the popular movies Mean Girls and Frozen. The UTM Housing participants were the only ones in their division, and they took home 1st place.
After that and kicking off the fraternity division, Pi Kappa Alpha channeled their inner lion and showcased The Lion King. Sigma Chi presented a rendition of "Hannah Montana," none the less dancing to the "Hoedown Throw Down." Phi Sigma Kappa raced around the stage in cardboard boxes shaped like cars and took the crowd for a spin while performing Cars. Alpha Gamma Rho recreated Peter Pan, complete with Tinkerbell and the Lost Boys. Sigma Phi Epsilon presented a football theme along with acting and singing to songs from Hercules. Sigma Alpha Epsilon helped us remember what is was like to go to summer camp with Camp Rock. Kappa Alpha Order ended the fraternity division and took us down memory lane with The Goofy Movie.
Winners of the fraternity division were Kappa Alpha Order in first place. Coming in second was Sigma Phi Epsilon and third place went to Alpha Gamma Rho.
Alpha Delta Pi started the sorority division with spunky dancing and singing from the Disney Channel original movie, The Cheetah Girls. Chi Omega followed with a flashy performance of Aladdin. Alpha Omicron Pi showcased their dancing skills presenting High School Musical. Zeta Tau Alpha showed the crowd that UTM has a friend in them with Toy Story. Closing out the show, Sigma Alpha performed Mulan.
Chi Omega took home first place in the sorority division. They were followed by Zeta Tau Alpha in second place, with Sigma Alpha coming in third.
"We loved and wanted to perform Toy Story, because there were so many fun characters with adorable outfits.  We worked together to create the script and had a professional tape made," Haley Branum, sophomore from Trenton, Tenn. and member of Zeta Tau Alpha said after the show.  Branum continued, "Behind the scenes, we had volunteers to help create costumes and backdrops, because we really wanted to focus on that part this year."
This Friday, Oct. 9, the sororities and fraternities will compete again at Pyramid.