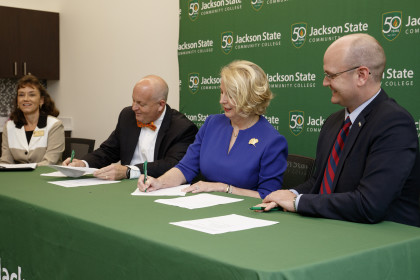 The Fall Faculty meeting occurred Aug. 22, 2017, in Watkins Auditorium to discuss the upcoming changes and challenges to UTM, to celebrate student success and to discuss increasing attendance.
Dr. Carver addressed the faculty by breaking down the university's growth in numbers: 1,054 new freshmen and 518 new transfer students will attend UTM this year. With an 11 percent increase in freshmen and a 10 percent increase in transfer students, there is hope for bettering UTM (Carver). The retention rate for freshmen to sophomore class of 75.9 percent broke the current university record of 75.2 percent. Dr. Carver states that it is because of willing professors who take interest in their current and potential students that the rate continues to increase.
However, UTM is faced with many challenges such as another year of declining enrollment, budget shortfall and outsourcing. It will take at least another two years of increasing freshman classes before enrollment will even out. Because of this, the budget still falls short of where it needs to be. Until the final budget is released, the decreasing estimate cannot be determined. Outsourcing is also being considered for the upcoming year for maintenance and custodial duties. This decision will be announced soon, as the university hopes to have all of the information ready to present by Labor Day.
Dr. Carver presented many goals for the upcoming year in terms of recruitment and student success. UTM is becoming more familiar with SACS Accreditation and hopes to bring awareness to other schools of the struggle to overcome the probationary status UTM endured.
The Elam Transfer Promise was also announced at the meeting, which is a partnership with Jackson State Community College to help students with an associates degree transfer to UTM with ease. Recruitment is at an all time high for both in and out-of-state students. Every sophomore and junior student in Tennessee, who meets admissions criteria, has been contacted by the University to express interest in his or her future. Also, a low tuition rate has intrigued many prospective students and encourages current students to continue their education at UTM.
Twenty-eight new faculty members have joined UTM in multiple different departments from Physics to Nursing. Several have come from different countries to teach and work on campus.
Nine professors were recognized and awarded for outstanding teaching and advising. Specifically, Dr. Jefferson Rogers, Professor of Geography, received the University of Tennessee Board of Trustees Honor Resolution.
As the faculty and staff prepare for the fall semester and the challenges they may face, Dr. Carver encouraged them to continue their dedication to students and work, because just one student's success is the university's success.
Higher education officials formalized a partnership through UT Martin's Elam Transfer Promise scholarships that will benefit Tennessee Promise students who pursue a four-year degree at UT Martin. The announcement and signing were held Wednesday at Jackson State Community College. Pictured at the signing of UTM's Elam Transfer Promise event are (l to r) Dr. Allana Hamilton, president, Jackson State; Dr. Keith Carver, chancellor, UTM; Dr. Flora Tydings, chancellor, Tennessee Board of Regents; and Mike Krause, executive director, Tennessee Higher Education Commission. (Photo Credit/University Relations)