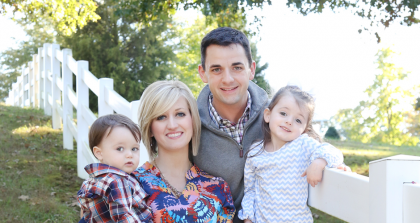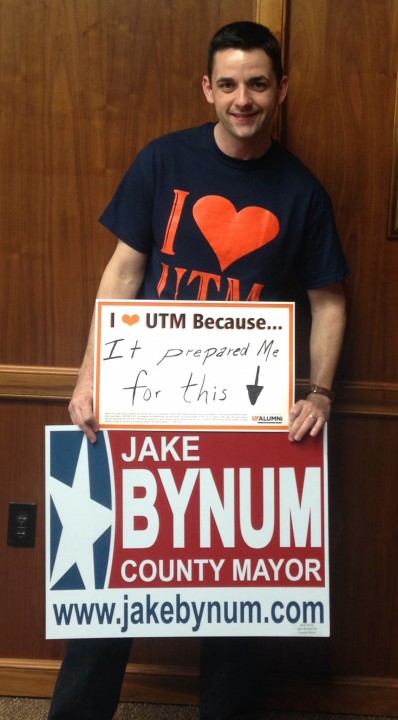 Newly elected Weakley County Mayor Jake Bynum survived a tough race to become the youngest county mayor in Tennessee on Aug. 7.
Bynum, 30, said he was thrilled to hear the news that he had won the election.
"There was a sense of relief after it was all over, but we were ecstatic to know that all of the hard work was worth it," he said.
Bynum, who was born in Paris, Tennessee, grew up in Dresden, where he now lives with his wife, Alyssa, his daughter, Ella, and his son, Nash.
Both Bynum and his wife graduated from UTM. She earned degrees in Education and Dance, and currently teaches third grade at Dresden Elementary School.
For Bynum, the decision to attend UTM after graduating from Dresden High School was easy to make.
"From early on that's where I decided to go and I never really applied anywhere else. The rest is pretty much history," he said.
Bynum said he loved being involved with different organizations while at UTM. He was a member of Pi Kappa Alpha and UAC (Undergraduate Alumni Council), a PEP leader, a Student Ambassador and president of Pi Sigma Epsilon.
His favorite experiences were being a member of Pi Kappa Alpha and being a PEP leader. He encourages students to get involved while they are on campus.
"College is about having a good time and figuring out who you are. It's important to be a part of the UTM community. You don't get as much of the college experience if you don't get involved," Bynum said.
His professors at UTM taught him more than just his academics.
"The number one thing I learned at Martin was how to manage my time, relationships and figuring out how to prioritize," Bynum said.
After graduating from UTM in 2006, Bynum went to work for First State Bank as a business development specialist. He worked primarily with consumer lending.
Outside of work, he enjoys staying in shape by running and going to the gym. Bynum also enjoys watching TV, reading nonfiction material and spending time with his kids.
Bynum said he ran for mayor because the opportunity presented itself. County Mayor Houston Patrick was retiring. There was an opening for the position and Bynum felt like he could do the job.
Bynum said he is excited to see the impact his election to mayor will have on his family. He hopes that it will change their lives, so he can build a future for his family and provide opportunities for his children as they grow up.
Aside from the changes in his family, Bynum hopes he can see some positive changes for the people of Weakley County.
"We had a really good message throughout the campaign of what was important to us and to the people of Weakley County," Bynum said.
There are no specific plans for Weakley County yet, but Bynum hopes to expand the economy with restaurants and entertainment. He also wants to bridge the gap between UTM and the community.
"UTM's greeks and other extracurricular clubs do a lot of good work and it's very important for the Martin community to know that," Bynum said.
Bynum gives thanks to his family and to those who voted for him, but he wants to give special thanks to UTM.
"The university gave me a great stepping stone to be able to do something like this," Bynum said.
Featured Photo: The Bynum family is welcoming the changes that come along with Jake Bynum winning the Weakley County mayor's seat. (JakeBynum.com)