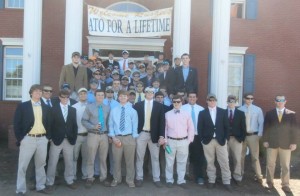 The Alpha Tau Omega chapter at the University of Tennessee at Martin will close following denial of a final appeal of a hazing incident suspension to university Chancellor Tom Rakes and recommendation of charter revocation to the ATO national board by Wynn R. Smiley, fraternity CEO. The chapter was notified of Rakes' decision in a letter sent to the chapter Jan. 27.
The national fraternity followed with a letter to the chapter dated Jan. 29 from Smiley stating that the national fraternity has started the charter revocation process.  "I will recommend to the national fraternity board of directors to withdraw the charter of Zeta Pi effective upon the board's affirmative vote," Smiley said in the letter.
The chapter was notified Nov. 25, 2013, of the university's initial decision to revoke registration after an internal investigation of an alleged Nov. 7 hazing incident. A vehicle struck a member of the fall 2013 pledge class early that morning while the individual walked along a rural road with three other pledge class members in Weakley County. The Tennessee Highway Patrol and the university's Office of Greek Life and Office of Student Conduct investigated the incident.
The university's investigation found violations of student conduct, including endangering another person and participation in hazing. The chapter participated in an administrative hearing Dec. 12 and its first appeal was denied and the chapter notified Dec. 16.
A subsequent appeal to Dr. Margaret Toston, the university's vice chancellor for student affairs, and a final appeal to Rakes resulted in denials from both university officials.
"Although this situation is troubling, I am hopeful that our action will serve notice that there will be serious consequences when inappropriate behaviors lead to life-threatening outcomes," Rakes said. "As a university community, we are charged with the responsibility to attend to the safety of our students and others, as well as demonstrate the values that we believe are most important."
Smiley added in his letter, "A part of brotherhood is understanding that we are all human and make mistakes. Brothers are there for one another and are encouraged to forgive, repair the damage and rebuild a strong relationship with one another."
"However, as you and the rest of the chapter have personally experienced, at some point in its recent history, the chapter hit a tipping point in which the men of the chapter did not account for the consequences of their repeated and ill-advised choices."
"At that point, without a dramatic shift in brothers' choices, it was simply a matter of time before the chapter would be faced with its fate. And now, as sincere as I believe some of you are in wanting to make good on one more chance, the opportunity for that to happen has passed," Smiley said.