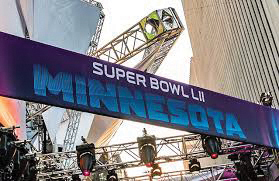 Another year another Super Bowl, and another Super Bowl means another slew of highly anticipated Super Bowl commercials.
Super Bowl ads are known for being extremely expensive and having a high degree of value put into them. These commercials often vary in terms of mood and purpose.
This year was no different. Notable comedic ads included an M&M's commercial that featured actor Danny DeVito pretending to be the red M&M and swimming in chocolate. There were several other commercials featuring hilarious sketches with Eli Manning, Odell Beckham Jr. and other players from the New York Giants. Tide also had a string of running gags throughout the Super Bowl's airtime. More serious advertisements for Tom Clancy's Jack Ryan and The Cloverfield Paradox captivated audiences everywhere.
Over the course of the Super Bowl's existence, some commercials have stood out and made a lasting impression on some viewers more than others. Without any more delay, here are the top five Super Bowl commercials of all time.
Apple's 1984 comes in at number five during Super Bowl XVIII in 1984. This ad connects to George Orwell's famous book about a dystopian future, which was controversial at the time. According to the website Digital Trends, Apple hired Ridley Scott to direct this commercial, which suggested that people buy the new Macintosh as opposed to other bland alternatives.
E-Trade's baby commercial during Super Bowl XLII in 2008 takes the number four spot. This commercial made investing and trading appear cute and appealable, something never thought to have been possible. This ad made a lasting impression on audiences due to it's unique and comedic approach.
Doritos is known for having clever and comical commercials, especially after this year's showing. But their Baby Sling commercial from 2012's Super Bowl XLVI comes in at number three.  The baby in the sling grabbing the bag of Doritos is as memorable as it is funny. It's safe to say that people still remember this commercial from over a half-decade ago.
Budweiser's Puppy Love ad from Super Bowl XLVIII in 2014 was the most shared Super Bowl ad until number one on this list came and took over. Unlike the entries above, this commercial decides to tug at the audiences' heartstrings and evoke an emotional reaction. It remains one of the most popular ads of all time.
Coming in hot at number one is the most shared ad of all time, according to Business Insider. Volkswagen takes the Super Bowl commercial crown with their 2011 ad The Force, aired during Super Bowl XLV. It featured a child dresses up as Darth Vader desperately trying to use the force, but coming up short each time. In the end however, he finally prevails. Volkswagen made the clever decision to use a massively popular brand like Star Wars to achieve success (along with children). Volkswagen is up there with the usual kings of Super Bowl commercial space such as Apple, Doritos, Budweiser, etc.
Though these are the top five, who is to say that the standings will not change after future Super Bowls.
(Photo Credit/WikiCommons)