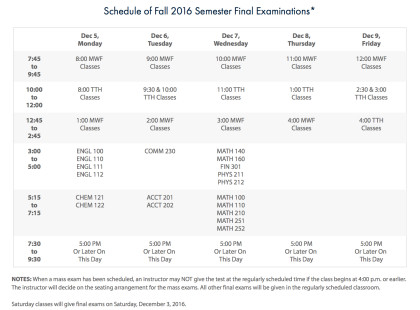 It is almost finals week at UTM, and for many of us that means late nights, venti-size coffees and a dwindling bank account with pending transactions at Domino's.
However, any season is a good season to create change for the better, so use this semester's finals to approach life the healthy way and still combat stress. Though these solutions may not always be the quickest, your body will thank you in the long run.
Drink water. I know this is the time where we all decide that coffee and Mountain Dew are the solution to writer's block. Just remember to have a tall glass of water for every caffeinated beverage you take in. The hydration will help you more than you think, and water is much cheaper than that fourth coffee that makes you question why bean-water tastes so good.
Sleep is not optional. An all-nighter sounds like a great idea when you feel the crushing weight of a 24-hour deadline, but the next day when you sit down to take an exam, that all-nighter will hit you and focusing will feel like rope pull against your worst nightmare. Remember that if you will be sleeping for less than seven hours in a night, you are not getting the minimum amount of sleep needed to function properly.
Good food is better than fast food. Nobody wants to take the time out of their day to cook, but salads are best eaten raw and you can buy vegetables warm from E.W. James and Walmart. There's also the cafeteria on campus. Your immune system and energy levels will be grateful for real food, even if that means begging someone for your study room back at the library.
"You time" is good time. If you are anything like me when I'm stressed about finals, all you can think about is the daunting list of things that must be done. Sometimes we forget to allow this list to include necessities like walking the dog, showering, blinking and changing clothes. Remember that not only are these things essential to your day, regardless of how busy you are, but that it is also absolutely required that you take a few minutes for yourself. The student recreation center is a great place to blow off steam and get your heart rate going. If you are the more sedentary type, you might prefer winding down by cooking for yourself, listening to music for thirty minutes or catching that one episode of Friends you love. If you never take a break from studying, you will burn yourself out and your time will be spent less effectively and won't have very lasting effects.
Eat breakfast. They weren't kidding about breakfast being the most important meal of the day. This one can be summed up for itself. A good hearty breakfast at the beginning of the day can help you feel prepared and energized to tackle that long study guide or tough exam.
When finals get tough, we all let go of the basics for healthy and happy survival, these things should be the last to go out the window. So as you prepare for finals week this year, remind yourself that your body and mental state will be healthier if you follow these easy tips. Studying is great, but one poor grade will not kill you. Most of all, remember to socialize with others, continue to eat and if things get to be too much, don't be ashamed to visit the counseling center. As you approach finals, may your coffee be strong and the curve be ever in your favor, but most of all, may your health come first.
Graphic credit| utm.edu