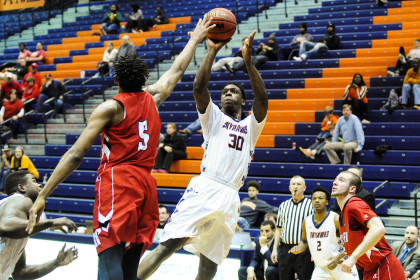 After dropping four straight games, the UTM men's basketball team have won their last two, including a 86-77 win over Austin Peay Thursday night.
The win was a crucial one for the Skyhawks (12-12, 4-5 OVC) as they continue to grind and climb up the Ohio Valley Conference standings.
"I give Austin Peay a lot of credit, they came in with a great game plan and had us on our heels early in the game," said UTM head coach Heath Schroyer.  " It took us a while to get into a rhythm but we had some guys, particularly Jacolby Mobley who stepped up and provided a spark off the bench.  Any win you can get in February is really hard to get and is really big and we're very fortunate."
The game was close throughout most of the contest and the Governors led for a majority of the first half.  The Governors jumped out to a eight point lead midway through the first half, but the Skyhawks closed the gap and eventually retook the lead just before halftime.  An Austin Peay 3-pointer just before halftime gave the Governors a one point lead at halftime, 35-34.
The second half was similar to the first, but the roles were reversed.  UTM retook the lead after halftime and quickly jumped out to an eight point lead four minutes into the second half.  The Skyhawks kept a little bit of distance between them and the Governors but were unable to jump out to a double-digit lead until there was less than a minute remaining in the game.  UTM closed out the game and cruised to an easy 86-77 win.
The Skyhawks had five players finish with double-digit points including Mobley, who came of the bench and led the Skyahwks with 20 points.  He was followed by Myles Taylor (19 points), Twymond Howard (17 points), Alex Anderson (17 points) and Kedar Edwards, who tallied his fourth career double-double (11 points and 15 rebounds).
Austin Peay had four players finish with double-digit points, including Josh Robinson (16 points), Kenny Jones (16 points), Jared Savage (14 points) and Chris Horton, who also tallied a double-double (15 points and 11 rebounds).
Overall, the Skyhawks shot 47 percent (26-55), 57 percent from 3-point range (11-19), 76 percent from the free throw line (23-30) and out rebounded Austin Peay 40-28.  The Governors shot 45 percent overall (26-57), 35 percent from 3-point range (12-34) and 65 percent from the free throw line (13-20).
The Skyhawk's next game is Saturday, Feb. 6 when they go on the road to take on SIU Edwardsville.  Tipoff between the Skyhawks and the Cougars is scheduled for 5 p.m.
Photo Credit: UTM Sports Information