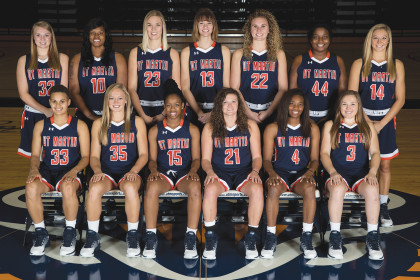 This year will be another rebuilding year for UTM head coach Kevin McMillan and the Skyhawk women's basketball team.
However, it's almost become a recurring trend for the Skyhawks, and despite the new faces and new talent, McMillan and the Skyhawks still continue to find ways to win basketball games.
Last year, the Skyhawks finished the regular season with a 21-8 record and clinched their third straight OVC regular-season title. However, in the postseason, the Skyhawks made an early exit from the OVC tournament after a first-round loss to Murray State, and followed that up with a win over Memphis and a loss to Western Kentucky in the WNIT.
Even though the Skyhawks were picked to finish second in the conference behind Belmont in the OVC preseason poll, this will be a major reloading year for a UTM squad that lost a lot of firepower.
This year, the Skyhawks will be without three key starters and leading scorers: Haley Howard, Katie Schubert and Chelsea Roberts, all of whom were major contributors for UTM last year.
Instead, the Skyhawks will rely heavily on senior guard Jessy Ward, who was named to the OVC preseason first team. Ward averaged 13 points per game for the Skyhawks last year and was primarily known for her 3-point shooting, averaging 41 percent shooting from behind the arc (104-252).
Also returning this year are sophomore guards Emanye Robertson and Myah Taylor and sophomore forward Shy Copney, three players who gave the Skyhawks a huge push as freshmen last season. Ashton Feldhaus, who missed the entire season last year with an injury, will also be back for UTM, along with seven newcomers who joined the program during the offseason.
"We lost the most offense, I think, in the conference," McMillan said. "We scrimmaged [last weekend] and [only] had three players with any experience and I think combined they only have four years of experience. So it's going to take us a while to figure out what to do to be successful and the problem is with the schedule that we've got it's going to be rough on the kids to figure out and not lose focus."
The Skyhawks open their 2016-17 schedule with a home game against No. 5 Louisville on Friday, Nov. 11. The Skyhawks will also host Vanderbilt, Chattanooga and Arkansas State and will travel to Ohio, Samford, Missouri and Northwestern before they open their OVC schedule against Jacksonville State on Dec. 29. The OVC Tournament is scheduled for Wednesday, March 1, through Saturday, March 4, in the Municipal Auditorium in Nashville.
"By and large they're working hard," McMillan said. "The game is just a little fast right now for most of them, and we've got to figure out how to get it slowed down. I think the whole 'figuring out the world' is going to take a while. Hopefully, sometime between now and Christmas, we'll figure out what we need to do."