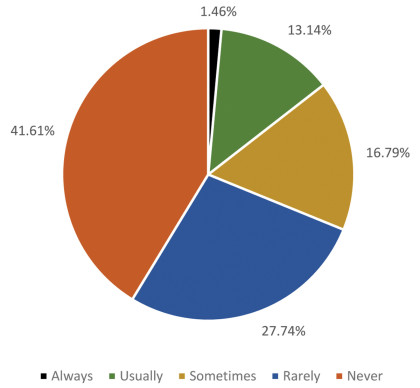 Many students who struggle with food insecurity are not willing to speak publicly about their hunger because of the stigma attached to it. However, several professors see and hear the problem of food insecurity on the UTM campus.
One of these professors is Dr. Melvin Hill of the English and Modern Foreign Languages department, who says that he is quite aware of food insecurity at UTM.
"I believe that food insecurity is a serious problem on this campus. … I have encountered enough students to understand that this is an issue on campus, even if it is not receiving the necessary attention it deserves," Hill said.
To Hill, a student is food insecure when he or she lacks a reliable resource to obtain a good quantity and quality of healthy food. Hill said that he has witnessed such insufficiencies first-hand in his classroom and around campus.
Hill has heard students complain in the hallways about being hungry but not having enough money for food. As he moves his way through the groups of students waiting for the elevator, he often hears snippets of conversations that indicate that the student may be food insecure. These conversations often sound like "I haven't eaten since Saturday" or "I don't have enough money for lunch."
Even in the classroom, Hill has heard implications of food insecurity — in the form of grumbling stomachs. On more than one occasion, Hill has heard a student's stomach growl and it was obvious that the student wanted to eat, but did not have the means to do so. Hill clearly remembers an example of this from a few semesters ago.
One day, he was lecturing in class and heard a student's stomach grumble. The student kept trying to hide the noise by clearing her throat, but this coverup did not work well and the students around her began to make comments about it. The student was obviously embarrassed and kept apologizing. After class, Hill pulled the student aside and asked if she was ok. Hill described the look on her face as one that said it all. He asked if she would come to his office to discuss her grade, to which she agreed. In his office, the rumbling increased and she asked if she could have some of the chocolate that sat on his desk. When he said that would be fine, she quickly took several pieces.
"I wanted to help but I understood the code of conduct that is expected from faculty," Hill said. "Nevertheless, I requested that the student retrieve some papers from the printer. And while she stepped away from my office, I placed $10 in her textbook that she left on the corner of my desk. When she returned, I suggested that she read pages 230-245, and be prepared for class."
When Hill made his way to the classroom for the next class session, the young woman was standing in the hallway waiting to thank him, to which he just smiled and walked into the classroom with her.
During another semester, he had a similar situation where a student's growling stomach was loud enough to interrupt class. With this student, however, he stopped her at the end of class and kindly asked when she had last eaten. The student insisted she was fine, but admitted that it had been at least a day since she had last eaten. Hill was not sure what the best course of action was, but decided to follow his gut. He asked the student if she would walk with him while they discussed her work in the class. She agreed and they made their way through the hallway and down to the basement of Humanities. He stopped in front of the row of vending machines and inserted money. He pretended to push a button, making sure the student saw that he never actually pushed anything, and proceeded to get irritated with the machine for "not working." He quickly wrapped up his conversation with the student and said he was going back to his office to get more money, since the vending machine ate his original bill. By the look on the student's face, Hill knew that she understood what was going on, so he walked upstairs and gave her the opportunity to use the money that was already in the machine and get whatever food she needed.
Hill said that he wishes he could do more, but as a professor he can only do so much for students. He does as much as he can, however, and says he is driven to do so by his faith.
"Matthew 25:35 says 'For I was hungered, and ye gave me meat: I was thirsty, and ye gave me drink: I was a stranger, and ye took me in,'" Hill said. "Not only is it a Christian's responsibility to help those in need, it should be our human obligation to help those in need."
While he is unaware of any past programs that specifically assisted students struggling with food insecurity, Hill said he hopes to see the Skyhawks Share program positively affect the campus and improve this issue in the future.
Information drawn from first question of the survey of UTM students (Pacer Graphic/Rachel Moore).