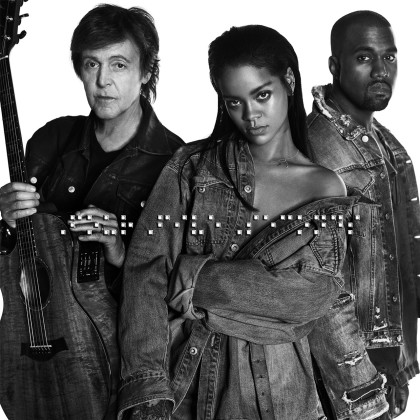 Rihanna surprised her fans this past weekend by the release of the single, FourFiveSeconds featuring vocals by Kanye West and Sir Paul McCartney on the acoustic guitar.
Rihanna released the news of the single Saturday via her Twitter account with the post "First glimpse at my new music."
The single isn't the first time the Island Princess has teamed with pop culture's infamous Mr. West, with past chart toppers like Run this Town and All of the Lights.
This, however, is the first collaboration between the starlet and the prestigious McCartney, who was heard alongside West earlier this year on the single "Only One," a song for West's daughter, North West.
The track illustrates Rihanna's frustrations with Mondays and the hook shows how close she is to having a conniption.
Kanye West's feature on the track consist of more vocals than rapping while Sir Paul strums an unplugged guitar in the background, along with the sounds of the organ and a few call and response vocals.
The collaboration has a classic acoustic sound that Rihanna fans will enjoy. The piece focuses purely on Rihanna's voice, implying that the singer wants the audience to listen to the words and feel the meaning.
Rihanna and Kanye West both have released new music off their upcoming 2015 albums but no official titles or date have been released either as of now. Fans are wondering what's up next for each individual in the trio for rest of 2015 because it has only been one month into the year and the music industry is already in a buzz.