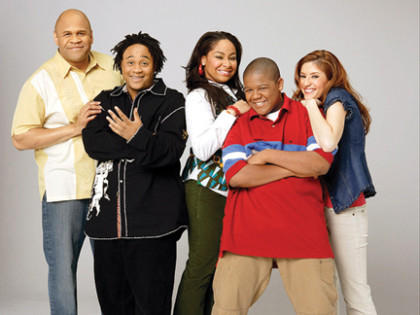 Actress, producer and TV personality Raven-Symoné Pearman publicly announced on Oct. 27, 2016, that there will be a spinoff of her previous Disney Channel show That's So Raven.
Symoné first mentioned the show on The View by jokingly saying, "No, I'm not pregnant." She has referred to the project, which does not have a title yet, as That's So Raven 2. As of now the show does not have an air time or a production date.
Raven-Symoné will star in the show portraying her former role as Raven Baxter, a psychic. In the spinoff Baxter is a single mother raising two children in Los Angeles and one of her kids has inherited her psychic abilities. Symoné is the executive producer of the show and said that she is working closely with some big names in the Disney Company like President and Chief Creative Officer for Disney Channels Worldwide, Gary Marsh, and Adam Bonnett, Executive Vice President of Original Programming.
"Her performance in That's So Raven is timeless," said Bonnett in an interview with ET Online. "We now have our eyes on the future with her, and we're looking forward to telling more stories for a new generation with an adult Raven Baxter raising her young family."
Due to this undertaking, Symoné will leave The View by the end of 2016 in order to fully commit to her new role.
Sara Haines, co-cast of The View, asked if it will be a reunion, bringing back some of the original cast. As for now, Raven does not know who will be cast for the starring roles in her new show. Symoné explained that once more details are established for the new series, casting will begin, and the team will look all over the United States for talent to star in the show.
Through all the excitement of the upcoming show, Orlando Brown, who co-starred as Eddie in the original That's So Raven, believes that there will not be a That's So Raven 2 without the original cast of the show.
Though the show has no release date at this time, it is set to air on Disney Channel.
Photo credit | www.disneychannel.com