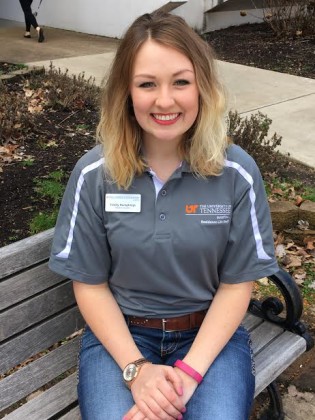 Trinity Humphreys first realized that she wanted to be a UTM Residence Assistant after being shown kindness and compassion from her former R.A., Amber Costello. From that moment on, Trinity realized that being able to have that kind of impact on residents was something she had to seek out.
Humphreys first applied at the end of her freshmen year, but did not have any luck. The following semester an unexpected job position opened up and she applied for the second time. Once again she was not accepted to be an RA. However, Humphreys had her sights set, and applied for the third time. For her, the third try was the charm, and she received an acceptance letter in the latter part of June 2016, making her an RA for almost an entire academic year.
Humphreys is from Hohenwald, Tennessee, and began her journey here at UTM in August of 2014. She chose UTM because it was close to home and offered the program she was interested in.  
She currently resides in University Village Phase 1 and has 10 office hours there each week. On top of that, she works 71.5 hours in a seven day span. She is on duty from 6 p.m.- 8 a.m., and is ready to take calls whenever needed to assist the residents. Despite the long hours, she loves her job.
"The best part about being an R.A. is all of the lives that you get to impact," said the Hohenwald native. "People do not realize that R.A.s are trained to assist with events such as fire evacuations, health and safety inspections, unlocking rooms and much more, but we are the people who handle all of that."
Her hard work and dedication to this job is apparent according to her supervisor, Kelsey Murray.
"Being an R.A. is hard. They work 24/7 year-round and deal with issues from lights out to crisis situations," Murray said. "It can be exhausting and easy to become overwhelmed. However, that has never been the case for Trinity. Trinity is such a positive person and she brings that positivity to the position. She greets every situation with a smile, and works hard to ensure that her residents have the best experience living on campus."
Trinity Humphreys is a junior, and will graduate with a B.A. in psychology next spring. After graduation she plans to attend grad school for occupational therapy. In her free time, she enjoys riding ATV's, spending time with her family, riding horses and traveling.
Determined to become a Residence Assistant, student Trinity Humphreys was accepted and approved for the position upon the third application. She has been in her current position since June 2016. (Photo credit / Jacey Bomar)