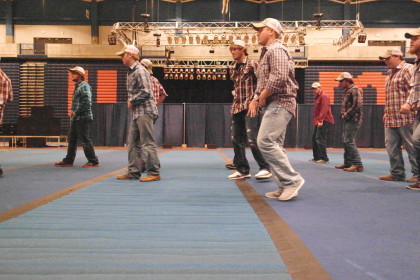 The hosts for this year's Annual Pyramid Competition were Taylor Hassle,an alumna of Alpha Omicron Pi, and Walt Downing, an alumnus of Alpha Gamma Rho.
First up to compete from the Fraternity Division was Sigma Phi Epsilon, they didn't convey a specific theme but performed to many poplar songs such as Anaconda by Nicki Minaj and Wiggle by Jason Derulo.
Following was Alpha Gamma Rho performing to popular country hits such as Save a Horse, Ride a Cowboy. After they performed their Skyhawks Cheer, they then broke from the usual country mold by performing to multiple Michael Jackson hits such as Thriller, Smooth Criminal and Beat It.
As their performance ended one of their coaches, CJ Greer, a sophomore biology major, screamed "Oh my gosh, you boys are about to make me cry."
Next up was Sigma Chi, and they chose to mimic the popular mime/dance group the Jabbawockeez as their theme this year. They sported all black attire with white face masks and white shoes. They performed dance routines to Kanye West Stronger remix, Lean Wit It Rock Wit It by Dem Franchise Boyz, Tip Toe Wing In My Jawwdinz by RiFF RaFF and other popular Hip Hop dance hits.
Following Sigma Chi was Pi Kappa Alpha with a coal mining theme.
They performed to many upbeat alternative songs such Boom Clap by Charlie Xcx and Golddigger by Kanye West.
During their tumbling and stunts they made their Greek letters and Greek symbols for sororities on campus.
Sigma Alpha Epsilon was next with a Clark Kent/ Superman theme.
Early in their routine they opened their buttoned down shirts to reveal their superman t-shirts. During their tumbling they performed several high flying stunts one included "flying" like superman. They performed to several upbeat high bass songs such as Tom Ford by Kanye West , We Dem Boyz by Wiz Khalifa, Turn Down For What by Lil Jon and the popular dance anthem Nae Nae.
Last in the Fraternity division was Kappa Alpha Order with a County Jail theme. They performed to all jail related music, including classics such as Jailhouse Rock by Elvis, and the men definitely dressed the part, even including police officers in their routine.
The sorority division began with a bang of glitter from Alpha Delta Pi. They performed to many upbeat dance songs.
Next was Zeta Tau Alpha performing to remixes of many popular songs such as Wiggle and Talk Dirty by Jason Derulo, Fancy by Iggy Azalea and Timber by Kesha.
The ladies also did many high flying and tumbling stunts, some while even holding signs.
Decked out in red hair bows and long sleeve red and gold cheerleader body liners were the ladies of Chi Omega.
The group's performance included twists, tumbling, stunts and acrobatics.
Last to perform was Alpha Omicron Pi with a Britney Spears inspired performance. They performed to remixes of many of her hits such as Stronger ,Toxic ,Womanizer and Circus. The ladies even had a "Britney" dancing on stage with a stuffed Anaconda snake.
One of their key and most daring moves involved throwing two girls in opposite direction across nearly a foot of space.
The Gentlemen of Sigma Alpha Epsilon took first place and second place was awarded to Sigma Chi in the fraternity division.
In the Sorority Division, Alpha Omicron Pi won first place and Chi Omega who took home second.