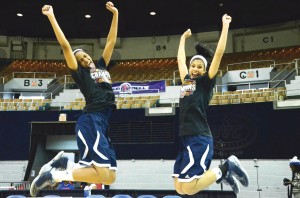 Rickiesha Bryant and Shelby Crawford are fresh off their third consecutive OVC victory.
Bryant and Crawford, both over 6 feet tall, have been an imposing presence on the basketball court this season, right through the very last game.
Bryant, an Accounting major, not only made a career high of 20 points, but also extended her UTM record for the most blocks in a single season to 85 and made the OVC All-Tournament Team. She also had eight field goals, a career best, 12 rebounds and shot 100 percent, all in the championship game.
Crawford, a Sports Management major, has had a total of 293 rebounds, 36 assists, 17 blocked shots, 55 steals and 256 points in her collegiate career thus far.
Both players have a family background in the sport. Bryant watched her older sister play.
"… When I was like 5 or 6 my big sister used to play and when she played AAU, I used to go with her because the coach drove a pick-up truck, and I went just to ride on the pick-up truck. I got interested in it, and I started playing myself and started to love it," Bryant said.
Crawford's father, James Crawford, played for the National Basketball League of Australia for 18 years, most notably with the Perth Wildcats.
"My dad played professional basketball … I mean, I never really liked it when I was little. … I played it one time, and I was like 'Okay, this is for me,' and I just kept going from there," Crawford said.
The two seniors met at East Mississippi Community College.
"We actually transferred in from the same junior college. We were roommates at my junior college," Bryant said.
The two players transferred into UTM together from East Mississippi Community College.
"Coach McMillan recruited us together … We just liked the school, and the coaches and we thought it would be a good fit for us," Crawford said.
The time spent together also has its advantages out on the court.
"We've been around each other for so long that we're pretty close. So, we kind of understand each other when we're out there," Crawford said.
Even though they understand each other, their personalities are distinctive.
"We're opposites, we're like night and day. Like, when we were roommates, I liked the dark and she liked the light, and I liked to sleep late and she liked to get up early. She likes to eat healthy; I like to eat unhealthy. I like to unlock the door; she likes to lock the door. She likes Harry Potter; I don't," Bryant said.
Although opposites, they do share similar hobbies.
"I like to dance and shop. I'm a very good dancer. … I'm very stylish," Bryant said.
"I guess I like to shop and do all those girly things, do my nails. I'm kind of girly," Crawford said.
As for post-graduate plans, Bryant and Crawford are still looking for opportunities.
"I guess try and get an internship somewhere in sports marketing and go from there, see where it takes me," Crawford said.
"Just start to work, I guess. I really don't know. … I'm just going to go with the flow I guess," Bryant said.
Both ladies compare themselves to a palm tree.
Crawford because "it's in a tropical area. It's nice weather, by the beach."
"They stand tall and beautiful and just bright. … As soon as you hit Florida, all you see is the palm trees, just like as soon as you walk into Martin, all you see is me," Bryant said.
Bryant had some final words about her time at UTM.
"It bettered me. It changed me for the better, I would say; my attitude, my views on life, just everything. It matured me. It made me who I am today."