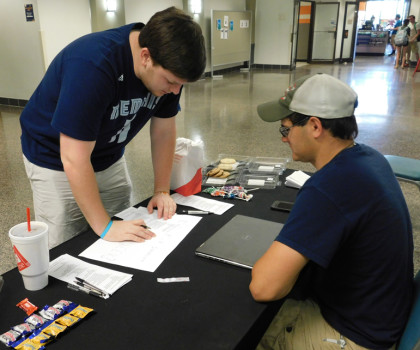 The SGA Academic Affairs Committee is conducting surveys in the UC until Friday, May 28 from 11 a.m. to 1 p.m. to gauge student opinion on matters such as a measure to help lessen the student load around finals, called dead week.
The idea would prevent large projects and tests from occurring during the week before finals. SGA is still working on the details of the concept, however, asks students whether they would like to have no classes on the Thursday and Friday before final exams and teachers available for office hours, or have no assignments or tests worth 10 percent or more due that week. This does not apply to classes without a final or labs.
"The goal is to make this week less of a stressful week for students so that they can adequately have the time and the energy to prepare for finals week," said Marabeth Kennedy, SGA Secretary General and senior political science student.
Members of SGA executive council have approached Chancellor Dr. Keith Carver and Dr. Jerald Ogg, Provost and Vice President of Academic Affairs, about moving forward with the idea and were advised to conduct research.
"I would also say that I'm open to conversations that move toward improvements for teaching and learning," Carver said. "We always have to weigh whether new initiatives are good for the faculty and students, however."
Along with the data gathered from surveys will be information about policies carried out by other universities.
"I know of several other universities in Nashville and other places around that do actually have a dead week and the students love it from what I understand," said Maggie Browning, Academic Affairs Committee member and SGA senator, junior secondary education major.  "It's really helpful and it provides a little bit of a break between the chaos of finals and then moving out and all that happens next week."
For example, at the University of Tennessee, Knoxville students do not have to take more than two finals in one day and can reschedule a day's surplus examinations. Faculty is also not permitted to give quizzes or tests that account for more than 10 percent of the final grade during the previous week. Additionally, a study day is factored in the school year calendar.
Before the Fall of 2011, UTM students were also given study days. On the Thursday and Friday before finals, class was cancelled for the sake of test preparation.
"I think the idea of allowing no assignments worth more than 10 percent the week before finals is a good idea, because if students are stressing over potential major papers, presentations or tests, then that takes away from time that they could be studying for the finals they will have the next week," said John Thornton, freshman communications student.
"I have two tests Friday then I have to turn around next week and take my finals," said Byron Abbott a sophomore electrical engineering student, who was also in favor of the idea.
Gathered research will be looked at by the newly appointed provost, then be sent to Carver. Should he think action is necessary based on the data, he will speak with SGA and a resolution will likely be formed. The resolution will travel through committees, faculty senate and finally the UT Board of Trustees to be implemented.
"It's something that comes up all the time that students are really in favor of and everybody in SGA is like 'This sounds great, we'd love to do this,' " said Daniel Jones, Academic Affairs Committee chair and sophomore Marketing/ Business Management major. 
The student government has tried to have different variations on this concept passed before, as recently as during the 64th General Assembly, in spring 2016.

Other questions on the survey ask students about the grading system at midterms, how quickly professors give back grades, if all teachers should post grades on Canvas and if they know about SGA.
Chair of Academic Affairs Committee, sophomore Marketing/Business Management major, Daniel Jones, explains the SGA survey to freshman communications student, John Thornton (Pacer Photo/Kristina Shaw).