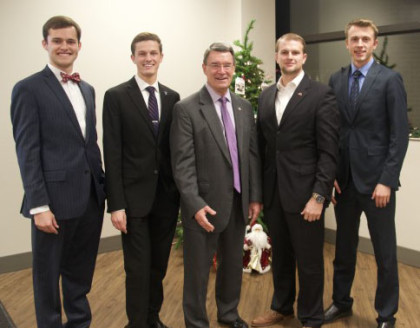 Interim Chancellor Dr. Robert Smith is a man with the common vision of the students he has been serving at UT Martin for the last 19 months.
As Smith took on the multi-dimensions of being Skyhawk Chancellor, it became apparent to all those he encountered that he had a gift.
Taking on the role of interim chancellor during the university's search for a successor to the retiring Tom Rakes, Smith said that he returned to the small campus of Martin with two goals: to further the vision that UTM represents, and to create an environment where students value their degree and the time it took to earn it.
During his term as interim chancellor, the university decreased out-of-state tuition, passed and implemented the "15 in 4″ resolution to increase the ability of students to graduate within four years, approved construction of a new STEM building and instituted the Career Planning and Development Center, among other changes..
Smith gives all of the credit and thanks for his success to the students he serves. At a dinner reception, Smith deflected praise, instead thanking those in attendance for being the main force behind his accomplishments.
"You made history," said Smith. "You achieved things that are unprecedented for this university."
Several members of the audience had the opportunity to speak on behalf of what Smith has done for them as chancellor. Jordan Long, sophomore, told the room about his experience hearing Smith speak on Sept. 22, 2016. Long said that Smith's first words at the chancellor's roundtable began: "Thank you for believing in me."
John Domanski, former president of Sigma Phi Epsilon Fraternity, described Smith as being the first administrator he had met in his more than four years at UTM who took a genuine interest in the concerns of students involved in Greek life.
Student Government Association president Josh Diltz expressed his gratitude to Smith as he described the ways Smith led the student body during a tough transitional period. Diltz said Smith's tenure will leave a lasting legacy at UTM.
"He invests in what and who he believes in, and he believes in us still," said Diltz.
Smith has previously said on multiple occasions that this job is the most difficult he has ever had.
Smith came to UT Martin to fill shoes temporarily, probably unaware of the lasting effects he would have in the hearts of faculty, staff and students for years to come.
Feature photo: Dr. Robert Smith, UTM's Interim Chancellor, poses with several students at a farewell banquet. Smith was named interim chancellor on May 1, 2015, following the retirement of previous chancellor Tom Rakes. (Pacer Photo/Rachel Moore)