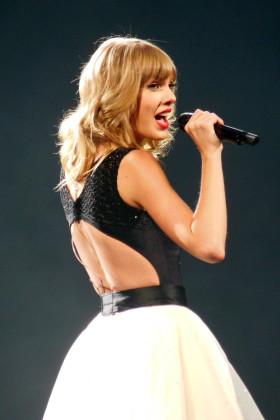 Taylor Swift, once feeling 22, now has transform into a dark, self-satirizing woman. Does this mark a new era of Taylor Swift or is she just clearing her mind of what she needs to say to all of her haters?
If you have heard the song, she repeatedly sings "Look what you made me do" as though she is the victim, and if you watch the video and have kept up with all of her drama, you can see exactly who she is trying to blame.
The first scene starts with her in zombie clothing and makeup in a graveyard. The dress she wears is from her "Out of the Woods" music video, which was a fairytale inspired look. This could mean that her good girl, fairytale days are over. Within the next scene, she is lying in a tub full of jewels with a single dollar bill by her right shoulder. This is a very obvious sign. She is showing how she won a dollar from her sexual assault case against David Mueller.
When she sits in the throne surrounded by snakes, on the arm of her chair is a famous quote in William Shakespeare's Julius Caesar, "Et tu Brute" which Caesar uttered when he was literally stabbed in the back by his friends. Slightly later in the video, a snake slithers up beside Swift and pours her a glass of hot tea. It seems as though she is going to enjoy drinking her tea as she watches what she has done through this video.
She then transforms into a Katy Perry look alike as she crashes a car into a pole. This obviously symbolized the ongoing drama with the two pop stars. Her next person in her 'Burn Book' was actually a company as the star has had trouble with streaming services. In the scene to follow, Swift stands in front of rows and rows of fake models at Squad U to show the haters that she knows they think she only hangs out with fake people of model status beauty.
Finally, what I consider the most perplexing scene in this video is where the 'new' Taylor Swift is standing on a mountain of Taylors from her past videos. This scene is her really saying, "The old Taylor is dead."
Over all, I believe this video was everything she needed to get off her chest and I believe she did it in a very well-mannered fashion. Is she being petty and still playing the victim card? Yes, I do believe she is, especially through the lyrics of this song. However, isn't she the queen of being petty?
(Taylor Swift | Photo Credit/Creative Commons)