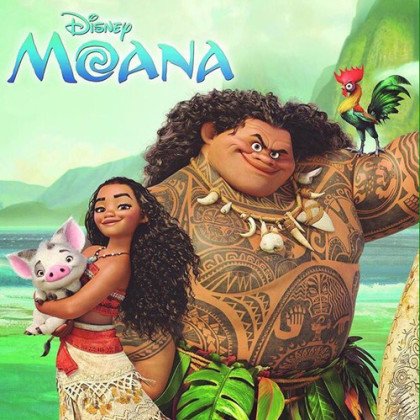 "Moana" is the typical Disney princess story; that is if you expect Disney princess stories to always include folklore, fast – paced action, battles and the journey to complete the quests of ancestors before her.
The film opens with a little background on Moana's mythology being told to a wide – eyed Moana by her grandmother, stories which set the background for the plot. Immediately after, the young heroine finds herself drawn toward the open sea, which greets her with open waves. Her father, the chief of their home island, Montunui, strictly forbids her relationship with the open water out of fear for her safety. Encouraged by her grandmother, Moana follows her heart to return the balance of nature to equilibrium alongside the smug demi-god, Maui.
"Moana" features no love interest, no romantic ballads, and no focus on the looks of its title character, Moana. Instead, Moana's passion is derived from her furiously independent nature, and her love for the earth (or ocean, rather) around her. The Polynesian heroine has a muscular body, unlike any other Disney princess before her, that she uses to its fullest to help her navigate on land and sea.
Moana defies many of the traditional Disney tropes involved with being a princess, and even includes a joke or two to Disney's typical image. In the words of Maui "If you wear a dress and you have an animal sidekick, you're a princess." But to write off "Moana" as another Disney princess film to be knocked to the wayside and join the lineup of dolls on a shelf does the quality of the movie, and Moana herself, a large injustice.
Vibrant colors of the Pacific Islands are showcased beautifully, as Moana fights to be the best "way-finder" she can be. The Pixar fusion with Disney is obvious in this film. It maintains the Disney whimsy, but replaces "painting" style animation with the tell-tale excruciating detail of Pixar on every hair and the texture of each wave.
Music is a vital part of the movement of the story, and is created largely by voice actors with connections to Polynesia. The songs run the gambit from tradition – infused pop, to amusing romps, including Moana's impassioned "How Far I'll Go" to the saucy song of a narcissistic crab (voiced by Jemaine Clement). Auli'i Cravalho, a 16-year-old from Hawaii, gives voice to the passionate Moana, with Dwayne Johnson, of Canadian-Samoan heritage, providing Maui's voice.
This seafaring adventure pays a respectful homage to traditions of the southern Pacific with an adventurous female lead who is the daughter of the chief, but most definitely not the usual "princess."
(Photo Credit | fanpop.com)