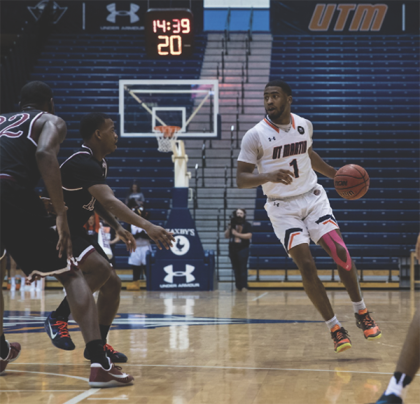 The UTM men's basketball team has had a rough start to the season so far, currently sitting at 2-7, but a 92-78 win at Arkansas State on Tuesday, Dec. 4, could be the spark they need.
The team is coming off of a 22-13 finish to the 2016-2017 season in Anthony Stewart's first year as head coach. Stewart had previously served as assistant coach before stepping up and taking the big job last year, where he led the Skyhawks to one of the most successful seasons the program has ever seen.
The team dropped their first two outings this season, both away games, before coming home and defeating North Carolina Central 74-57. The Skyhawks would then go on to drop five straight, only one of those being at home, and three of the five losses were within 10 points. Those three were against Southern, UMKC and UT Chattanooga.
Most recently the team went into Arkansas State and dominated the Red Wolves. Junior forward Fatodd Lewis led the team in scoring (23) and rebounds (14) recording a double-double on the night, and going 4-4 from the free throw line. Three other players for UTM would score double digit points against Arkansas State. These were guard Matthew Butler (20), center Terrence Parker (12) and coming off the bench to provide a big spark for the team was freshman guard Parrish Hewitt (17).
So far this season the leader in average points-per-game for the Skyhawks is Matthew Butler (17.4), and Fatodd Lewis is close to averaging a double-double so far (12.7 pts, 8.3 rebounds).
After only their second win of the season the UTM men's basketball team will definitely be looking to continue adding digits to the left-hand column. Their next game will be at home on Sunday, Dec. 10, against UC Clermont at 2 p.m. For a full schedule of the UTM men's basketball team that includes dates, times and locations visit utmsports.com.
(Photo Credit/Sports Information)