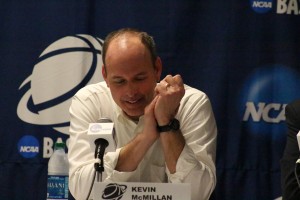 After elevating the University of Tennessee at Martin women's basketball program to unprecedented heights, head coach Kevin McMillan has signed a new six-year contract that will take him through the 2019-20 season.
"The University of Tennessee at Martin is committed to Coach McMillan, his staff, their families and the women's basketball program," Skyhawk athletics director Julio Freire said. "This contract extension demonstrates our belief that Coach McMillan is the right leader for our program. We are proud of the academic, athletic and social development within his program. I could not think of a better person and staff to lead [UTM] women's basketball."
"We're pleased that Kevin McMillan will remain at [UTM]," said Dr. Tom Rakes, UTM chancellor. "Coach McMillan has guided the Skyhawk women's basketball program into Ohio Valley Conference and national prominence. Coach McMillan and his family are important to the university and our community. We look forward to many more years of basketball success under his leadership."
McMillan, 46, recently wrapped up his fifth season at the helm of the Skyhawk women's basketball program. Under McMillan, UTM has made four consecutive trips to the NCAA Tournament – the first such appearances in program history. Earlier this month, the Skyhawks fell 60-58 at No. 4 seed North Carolina, which was the closest an OVC team had come to a win in the NCAA Tournament since 2003.
In addition to the four OVC Tournament titles in the last four years, UT Martin has also won the outright OVC regular season championships twice under McMillan (2011-12, 2013-14) after he inherited a Skyhawk program that posted a 2-27 overall record the year before his arrival.
McMillan sports a 98-62 record (.613 winning percentage) during his UT Martin tenure, including an impressive 63-21 mark (.750) against OVC opponents. He has served as head coach for three of UTM's six all-time 20-win seasons, including a school-record 24 victories in 2013-14.
McMillan has also been recognized as the 2010 OVC Coach of the Year and the 2010-11 Tennessee Sports Writers Association Women's Co-Head Coach of the Year.
"We would like to thank Chancellor Rakes and our AD Julio Freire for the commitment they have shown to the women's basketball program at [UTM]," McMillan said. "My family and I love West Tennessee and [UTM] – what it means to us and what it stands for. We appreciate the commitment from the university and the support from the community for what we have been able to accomplish the last five years. We look forward to adding to the legacy that has been set by the previous [UTM] student-athletes that have come through the program."
Feature photo credit: Bradley Stringfield