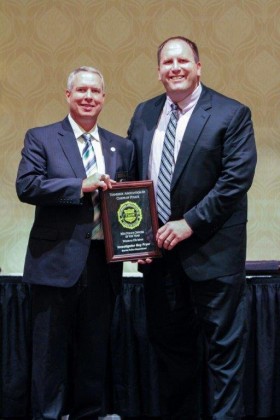 Investigator Guy Pryor of the Martin Police Department was awarded the Officer of the Year Award for the Western Division of Tennessee on Aug. 8.
The award, presented by the Tennessee Association of Chiefs of Police to outstanding officers from East, Middle and West Tennessee, is designed to reward dedication to law enforcement throughout the year.
Pryor has been with the MPD since 2006 and was the lead agent on the investigation resulting in the March arrests of several suspects on drug and weapons-related charges.
Pryor, a UTM alumnus, first became a police officer in 2004. He served two years with the UTM Department of Public Safety before joining the Martin Police.
"Investigations has always been something I have been interested in," Pryor said. "I enjoy the idea of finding out why something happened."
As an investigator, Pryor fills many different roles when necessary and no two days are the same.
"One day I could be performing an undercover operation to buy drugs," Pryor said. "The next day I could be working a homicide, or the next day doing surveillance on an area that has had multiple burglaries. This is just a small example that the job is ever changing."
Another thing Pryor enjoys about his job is the visible impact it has on the community.
"The best part of my job is getting to see a real impact when you help a victim of a crime, or solve a question that has been lingering for some time," Pryor said.
In terms of advice for those wanting to enter the field of criminal justice, Pryor advises students to remain steadfast and willing to improve.
"I would tell students to stay the course of reaching their goals," Pryor said. "Constantly try to improve. This can be done with a variety of different things, whether it be learning a foreign language, obtaining an advanced degree, or working on their physical fitness. … Strive to be the best candidate that [they] can possibly be. So, they will obtain their desired position."
Featured Photo: Martin Police Department Chief David Moore (left) presents Investigator Guy Pryor (right)with the Officer of the Year Award on Aug. 8. (MPD Capt. Don Teal)