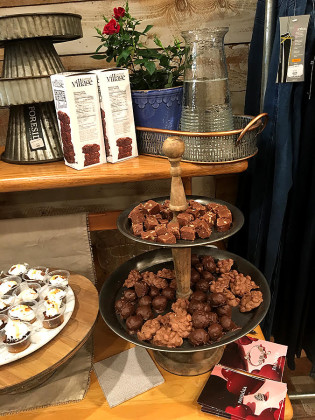 On Thursday, Feb. 9, the Martin Business Association and the Martin Historic Business District hosted the first ever Martin Chocolate Crawl event from noon to 6 p.m. Tickets were available for sale for $5 each, the profit of which will go back into the organizations. The event was entirely sold out after approximately 200 tickets were sold.
13 retail and non-retail businesses participated in the event by having a table of chocolate set up within their storefront. These businesses were the C.E. Weldon Library, Charity's Chocolates, Claire & Shuster Interiors, Fernweh Fox, Martin Yoga Studio, Monograms & More, Northwest Repurpose, Opera House, Savant Learning Systems, St. Charles, Styles on Broadway Salon Spa, Sugar & Spice and Twice New Resale.
Ticket holders were able to sample a wide variety of chocolate treats, explore the area, meet new people and shop in the stores.
"It's brought people in who haven't been in our business before and that's great," said Claire Wade, the owner of Claire & Shuster Interiors, a store that strives to provide the Martin community with specialty items in UTM colors and themes.
Many store owners and employees enjoyed the opportunity to make chocolate desserts and interact with customers while they ate their treats. Some of the desserts at the event included a chocolate dipping station with strawberries and shortcake at Claire & Shuster Interiors, six distinct chocolate candies at the C.E. Weldon Library, chocolate-covered pretzels at Styles on Broadway, cupcakes and M&M's at Monograms & More and caramel covered brownies at Sugar & Spice.
"I just think its great that it gets people into the downtown area and gives them an opportunity to go into shops they usually wouldn't go into," said Colleen Cates, an employee of St. Charles, who says her favorite thing about the store is providing customers with unique items they would not typically find in a department store.
Many business owners and employees agreed with Wade and Cates about the amount of new customers and publicity they have received from the event.
Attendees also seemed to thoroughly enjoy the event.
"Not only were the fudge and brownies delicious, but I found a gorgeous cape on sale at Twice New today—a double treat," said Linda Thurston, Chocolate Crawl attendee and editor of the Weakley County Press.
The fun did not end at the event, however, because ticket holders were able to write in their vote for the People's Choice for Best Chocolate on the back of their ticket and enter for a chance to win a dinner for two (a $100 value) donated to the event by the Opera House and Pandora accessories (a $210 value) donated by Sugar & Spice. The winner of the award was Allyson Thompson.
Six Toe Studio and Charity's Chocolates won the People's Choice for Best Chocolate. Sugar & Spice placed second and Claire & Shuster Interiors placed third.
Brian Thompson, Director of Economic & Community Development for the City of Martin, said that the event was inspired by a similar event that is held in Covington, TN. After observing the success of this other event, the Martin Business Association decided to host a similar event of their own to help bring in retail sales during a time of the year that is usually slow for business.
"The whole idea is to get people into the stores that they usually wouldn't go into," Thompson said.
They hope to make the Martin Chocolate Crawl an annual event that will grow in the future, and are optimistic after the "wild success" of this year's first try. The Martin Business Association also plans to hold similar events in the future, specifically one in April surrounding the UTM Rodeo, and another in August to give a warm welcome to college students entering the area.
Local company, Sugar and Spice hosted a segment of the first annual "Chocolate Crawl" in downtown Martin, Tennessee. |Pacer Photo/Summer White