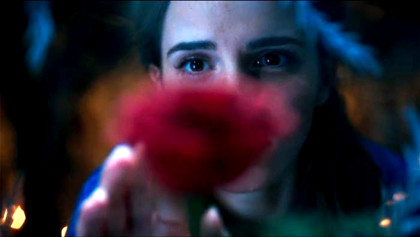 Disney fanatics were awoken the morning of May 23 to a special surprise: the official teaser trailer for the 2017 live-action movie, Beauty and the Beast.
The trailer starts with the Disney logo and pans to the castle. Then there is a tour, showcasing many places in the castle such as the ballroom where Belle and the Beast dance during the title song in the 1991 animated movie.
The music intensifies as there is a gradual zoom in on the face of the prince in a painted portrait. All of a sudden, claw marks rip the prince's face and we hear a mighty roar.
It cuts to the castle's door creaking as it is opened. We then hear the voice of Lumière (Ewan McGregor) and Cogsworth (Ian McKellan) conversing about Belle, who then asks, "Hello?"
The trailer cuts again to a gradual zoom out from the iconic enchanted red rose as a slow piano version of the title song plays softly in the background. We then see Belle (Emma Watson) approach the rose and try to touch it. The trailer stops and asks the audience to "be our guest" to see the movie.
There were definite chills and audible gasps happen throughout the trailer and we can assume that fans felt the same way. There is something enchanting and inviting about it. The sets were gorgeous, the environment was the right feel for the story and cast so far is pretty much spot-on.
As well as Watson, McGregor and McKellan starring in the movie, the Beast will be played by Dan Stevens, Gaston will be played by Luke Evans and Mrs. Potts will be played by Emma Thompson. It will also feature Josh Gad as LeFou.
This "tale as old as time" will debut in theaters on March 17 of 2017. Until then, we can only hope that more trailers will released so that we can continue to bask in this cinematic beauty.
(Photo Credit/Disney)