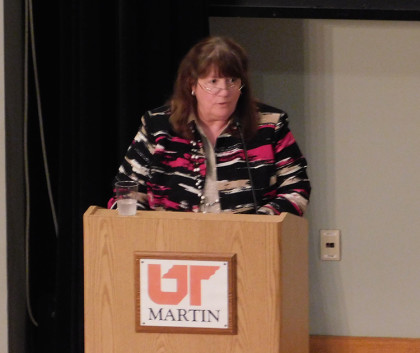 Keynote speaker Daryl Chansuthus spoke about modern day gender discrimination at the 6th annual UTM Women's Symposium held on March 28 in the Boling University Center.
Chansuthus, the Executive Director of the West Tennessee organization Wo/Men's Resource and Rape Assistance Program (WRAP), framed her presentation by referring to different discriminators that weigh on women like a pack, as illustrated by authors Rosalind Barnett and Caryl Rivers.
For example, Chansuthus discussed the high female enrollment in degree programs and professional schools. She also stated that half of the educated workforce is made of women, who earn the majority of advanced degrees. Yet, regardless of this, she identified existing, underlying problems.
"Women and girls still live in a society where their gender defines and limits them," she said, discussing crude and inappropriate jokes, gender comparisons and contrasts made as insults, characters that are sexualized across multiple entertainment platforms and more.
These additions to women's 'packs' can also dictate their career success and the way they are perceived in the workplace, according to the mother of four boys.
Chansuthus used the wage gap between men and women of the same qualifications to illustrate her point. She cited that in 2011 a college educated woman age 25 or older and working full time earned $50,000 yearly; whereas, college educated men of the same age earned $70,000 yearly.
She also showed this discrepancy in job fields and quoted that female physicians earn 39% less than their male counterparts, female financial analysts earn 35% less and female chief executives will earn 25% less.
She further discussed the disparity in workplace leadership. She stated that women make up less than 16% of Fortune 500 company boards of directors, and in Congress, less than 20% of legislators are women.
"In fact, sexism has been so normalized in our culture that we fail to even recognize it in others and in ourselves," Chansuthus said.  "Most of us, male and female, are victims of an unconscious deeply embedded socio-cultural bias against women."
In one presented example, after realizing that he had accidentally used the email signature of a female co-worker, Nicole Hallberg, and after noticing changed interactions between himself and his clients, Martin Schneider decided to conduct an experiment. The two switched signatures for one week and Schneider detailed his experience through a set of Tweets. He found clients to be "rude" and "dismissive." They second guessed his methods and he spent a significant amount of time proving that he knew what he was doing. Hallberg described her week as "one of the easiest weeks of my professional life."  Schneider tweeted, "I wasn't any better at my job than she was, I just had this invisible advantage."
In conclusion, Chansuthus discussed the concept of feminism.
"Contrary to popular thought, feminism is not the belief that one gender should be raised in power above another," said the executive director. " … It's critical to understand that same does not mean equal. The issue here is about equal rights and equal access to opportunities. Men and women don't have to be the same physicality to have the same right to equality."
Daryl Chansuthus, Executive Director of WRAP, spoke about gender discrimination at the sixth annual Women's Studies Symposium  (Pacer Photo/Kristina Shaw).