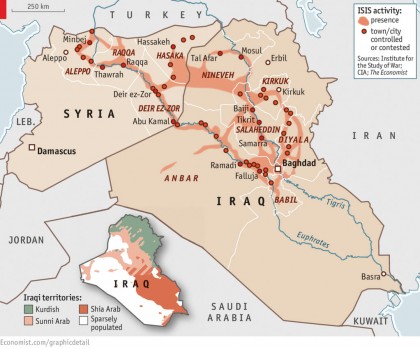 Despite six weeks of airstrikes from United States forces, the Islamic State in Iraq and Syria remain firmly entrenched in their attempt to establish a caliphate across the Middle East, according to The New York Times.
The group, more commonly known as ISIS, continues to hold 10 Iraqi cities, including Fallujah, Tikrit and Mosul. ISIS forces are reported to be nearing Baghdad, in an attempt to capture the capital of Iraq.
President Barack Obama agreed to begin "targeted airstirkes" against the group in August.
On Friday, Sept. 19, he said in a nationally televised broadcast from Washington, D.C., that he does not plan to deploy ground forces for the time being.
"The American troops deployed to Iraq do not and will not have a combat mission," President Obama said.
"Their mission is to advise and assist our partners on the ground. … We can destroy [ISIS] without having our troops fight another ground war in the Middle East."
The following day, during his weekly address, Obama expanded on his reasoning for his unwillingness to commit ground forces.
"I won't commit our troops to fighting another ground war in Iraq, or in Syria," said Obama. "It's more effective to use our capabilities to help partners on the ground secure their own country's futures."
The United States Congress has approved President Obama's plan to enlist and train Syrian rebels for assistance in the operation.
The primary goal of ISIS is to create a Sunni Islamic state in Iraq and Syria, ignoring national borders and establishing Sharia law.
Initially a splinter group of al-Qaeda, ISIS has gained international notoriety in recent weeks following their release of a video depicting the apparent beheading of missing American journalist James Foley.
The group has thus far released two other such videos featuring Steven Sotloff, another American journalist, and David Haines, a British aid worker.
The Central Intelligence Agency (CIA) announced on Sept. 11 that ISIS may comprise three times as many soldiers as previously estimated. The group is now reported to have between 20,000 and 30,000 members across Iraq and Syria, in contrast to the 10,000 that was initially reported.