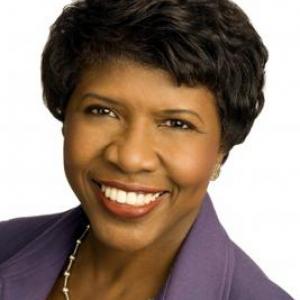 Veteran political journalist Gwen Ifill, longtime host of PBS' "Washington Week" and co-anchor of "PBS NewsHour," died on Monday, Nov. 14 in Washington, D.C. She was 61.
Ifill had been absent from PBS's recent election coverage due to health issues. She had taken a leave of absence in May to address those issues.
Ifill served as NBC News' chief Congressional and political correspondent before joining PBS. She also previously reported for the New York Times, where she was a White House correspondent, and the Washington Post, where she was a local and national political reporter.
Ifill became the first African-American woman to host a major political talk show when she became host of "Washington Week in Review" in 1999.   She covered seven presidential campaigns, and moderated the 2004 and 2008 vice-presidential debates.  Most recently, she moderated a Democratic presidential primary debate between Hillary Clinton and Bernie Sanders.
Judy Woodruff, co-host of "PBS NewsHour," described Ifill as "a fiend about facts" who "loved storytelling and loved helping people understand what was going on in the world around them."
"For young women of color looking for a role model, she was it," said Woodruff.
Ifill was also the author of "The Breakthrough: Politics and Race in the Age of Obama." The book was published the day President Barack Obama was inaugurated in 2009.
President Barack Obama paid tribute to Ifill during a press conference on Monday, calling her a "friend and extraordinary journalist who defended a strong and free press."
"She was an especially powerful role model for young women and girls," said Obama. "Gwen did her country a great service."
Ifill received more than 20 honorary doctorates, and was also a board member of numerous organizations, including Harvard University's Institute of Politics.
Born in 1955 in Queens, New York, Ifill was a preacher's daughter who wanted to pursue journalism.  She was raised in church parsonages with stints in public housing.
"When I was a little girl watching programs like this — because that's the kind of nerdy family we were — I would look up and not see anyone who looked like me in any way," said Ifill in an interview with the New York Times shortly after being named co-anchor of "PBS NewsHour." "No women. No people of color. I'm very keen about the fact that a little girl now, watching the news, when they see me and Judy sitting side by side, it will occur to them that that's perfectly normal — that it won't seem like any big breakthrough at all," she said.
Feature photo: Gwen Ifill, co-anchor of "PBS NewsHour," died Monday, Nov. 14 in Washington, D.C. (Photo Credit/pbs.org)