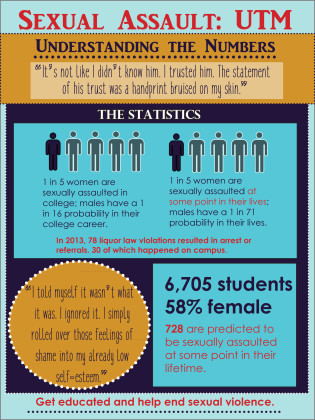 I sat in a Nashville cafe; I sipped my coffee while my friend talked about her day.
The steam from the freshly brewed coffee brushed my face and, as I looked down, a rippled reflection appeared. The lines and curvature of my face were distorted, completely morphed.
Our casual conversation also morphed into an ugly reflection of ourselves. Within our discussion, I felt it was time to tell her what happened slightly a year prior to our coffee date.
I explained the situation and the emotions that came afterward with confidence of reclaiming myself. … Even though I kept the event to myself for over a year, I could not release any emotion in that moment. Not a single tear was shed nor did my voice crack under the nervousness.
My friend's response was a head nod, as though she understood with care what I experienced and felt. She lifted her mug and took another sip: "Let me tell you mine …"
The words she spoke lingered in the air and the emotions smothered my soul. With every syllable, I became engrossed in her personal account.
"I had a crush on the guy. For a long time I've dealt with the guilt of that. How can I call him what he is when I was initially so attracted to him? … I told myself it wasn't what it was. I ignored it. I simply rolled over those feeling of shame into my already low self-esteem." 
Our rare and much anticipated coffee date began with excitement and ended with a deeper and more profound understanding of our personal experiences. Just as the coffee mug contained ripples, ripples of emotions began to beat against my inner turmoil. The girl I thought so highly of and considered my mentor, having had a similar experience, taught me to see that sexual assault at UTM was not an isolated event.
Incidentally, around the same time an online article, "It Happened to Me," from The Odyssey Online, revealed the conversation of sexual assault on campus did not end within the confines of the East Nashville coffee shop. Nearly a month later another article appeared in The Odyssey, "The Reality of Rape." Although this personal account did not specify details, it did entail the agonizing turmoil of the author as "the weight of his arm as he cuddled beside me while I cried myself to sleep".
UTM was thus publicly notified that sexual assaults do occur on the campus. The confines of the 250-acre campus host numerous accounts of sexual assault and harassment stories (UTM Quick Facts). According to the university's Annual Campus Security and Fire Safety Report, in 2014 four cases of forcible sex offenses were reported and all four occurred on campus. A year later, in 2015, no cases of forcible sex offenses were reported; however, one case of a non-forcible sex offense and two cases of dating violence were reported.
While this information provides the number of reported cases, it does not provide any insight into cases that have not been reported. The National Sexual Violence Resource Center states "1 in 5 women are sexually assaulted while in college" and that "1 in 5 women will be raped at some point in their lives" (NSVRC). The statistical information concludes that women who attend college and those who don't have an equal possibility in their lifetimes to be sexually assaulted or raped.
As of fall 2016, 6,705 students attended UTM and 58 percent, or 3,641, of the student body was female. Applying the statistical information from the NSVRC, around 728 of those 3,641 female students are predicted to be sexually assaulted in their lifetimes. The statistics of predicted sexual assault are not limited to the female gender; males have a "1 in 71" statistical probability of "being raped in their lives". This number drastically changes as "one in 16 men are sexually assaulted while in college."
It's not like I didn't know him. I trusted him. The statement of his trust was a handprint bruised into my skin.
UTM's Annual Fire and Safety Report showed six cases of forcible sex offenses were committed between 2013 and 2015. However, based on personal accounts, the problem is not with the university's documentation, rather the community's stance on sexual violence, assault and harassment. The university student body is a diverse and mostly accepting environment in the heart of Weakley County, a Southern, rural area that has over 50 churches. The city of Martin was once labeled as "One of Nine Happiest Towns in America" in 1970 by Esquire Magazine (History of Martin); however, underneath the seemingly happy and content community is a campus life that is suffering internally.
The contributing factors of sexual assault cannot be narrowed down; rather, the Office for Violence Prevention and Victim Assistance at Rutgers listed the following as contributing factors:
"A perpetrator's sense of power, control, and entitlement, gender-based stereotypes reinforce the inequality between genders, alcohol and other drugs, and victim-blaming ideas." One contributing factor of sexual assault is the use of drugs and alcohol. In 2013, of 78 liquor law violations that resulted in arrest or referrals, 30 happened on campus. By 2015, the number of arrests and referrals drastically dropped to 16, all of which occurred on campus (UTM, public safety). Although no definitive research exists on the use of alcohol in conjunction with sexual crimes, the first-person accounts beg to differ.
While my story along with many others do have the consumption of alcohol as a leading contributing factor, it is the naive notion that it won't happen to me as the primary cause of underestimating the situation until it is too late. Falling victim to someone who could be trusted is by far the hardest part of coming to terms with what happened.
I took a shower after. Cried a lot. It's such a cliche, but I was ashamed. I didn't want to think about what had just happened. And for a while I pushed it out of my mind. I refused to think about it. Confront him about it. After all, I put myself in the situation. I was drunk. I was flirting. I was responsible.
In researching this topic, I conducted a small survey through a social media outlet and received 56 responses that answered seven questions. The purpose of the survey was to look at the number of individuals who may have been sexually assaulted while attending UTM. The questions were:
•Are you male or female?
•During freshman orientation, did you receive information on the university's sexual harassment policy?
•Have you attend a university event addressing sexual harassment, assault or violence?
•Have you been a victim of a sexual crime?
•If yes, did the crime happen during the semester on or off campus property?
•Did you report the incident to police authorities?
•Did you receive counseling?
The data collected showed 12 individuals had been a victim of a sexual crime, one male and 11 females. Three females indicated the incident occurred on campus, six off campus, and two not during the school year. Two females reported the incident to local law enforcement while only one reported to campus security.  The male reported that the incident did not occur during the school year and did not report the incident.
UTM's Policy on Sexual Misconduct, Relationship Violence, and Stalking Section 8: Prevention and Awareness Programs, reads: "UT Martin implements comprehensive, intentional, and integrated programming, initiatives, strategies, and campaigns intended to prevent Prohibited Conduct by and against members of the UT Martin community. UT Martin intends that its Prevention Programs: (1) be culturally relevant, inclusive of diverse communities and identities, sustainable, responsive to community needs, and informed by research or assessed for value, effectiveness, or outcome; and (2) consider environmental risk and protective factors as they occur on the individual, relationship, University, community, and societal levels."
The university's dedication to the education of sexual assault and violence is supported by its claim to creating and maintaining prevention and awareness programs. According to Section 8.3, Ongoing Prevention and Awareness Programs, UTM "implements programming, initiatives, and strategies for students and employees that are sustained over time and focus on increasing understanding of topics relevant to and skills for addressing Prohibited Conduct using a range of strategies with audiences throughout UT Martin and including information about:
• This policy, including: UT Martin's prohibition against Prohibited Conduct; the definitions of Tennessee Sex Offense Crimes and Tennessee Relationship Violence Crimes; the definition of consent with respect to crimes relating to sexual activity in the State of Tennessee; and the information that is included in this policy in accordance with 34 C.F.R. § 668.46(b)(11) and 34 C.F.R. § 668.46(k)(2);
• Bystander Intervention; and
• Risk Reduction."
As the university's policy states the dedication to ongoing prevention and awareness programs, did the student body reflect the university's claim? In my survey, I questioned the individuals whether they have attended a university event addressing sexual harassment, assault, or violence. Thirty-one of the 56 participants said yes, they have attended an event. The result for the question was near even with the amount that did not attend an event. Almost half of the participants recollect that they have not attended an event that adheres to the university's policy.
In the case of sexual assault on the UTM campus, 12 people identified that they are victims to sexual crimes. However, only three people reported the crime to either campus security and local law enforcement. This survey did not reflect the three individual, including myself, who are victim to a sexual crime and did not report the incident. The resources available to students who are victim to a sexual crime is not lacking, rather an ongoing prevention and awareness. While snapchats of a hand decorated with "Not on my campus" may accompany the "One of Nine Happiest Towns in America" filter, university officials must not be blinded by the silence of students.
(Graphic Credit/Summer Patterson White)