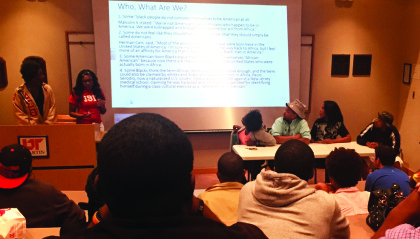 On March 23rd Delta Sigma Theta hosted their "Guilty Until Proven Innocent" forum in the UC Legislative Chamber to continue their Unsolved: Crimson Chronicles themed week.
There was a panel of four members, but crowd participation was also encouraged. The forum discussed issues the sorority felt were important to the African-American community.
The first issue discussed was "What are we," meaning what race does the audience identify with.  Most participants of the crowd identified as African-American but also stated the understood they did not originate in America.
The next topic discussed was the judicial system and how white and black individuals are usually given different sentences. Alarming statistics were given that stated over 60% of cases concerning black men involved them receiving harsher sentences.
Another topic presented was black-on-black murder compared to white-on-white murder. Many of the participants felt the statistics were alarming. "When I looked at these statistics, they were hard to believe, very hard, and I still can't accept then now," said Brian Evans, member of Eta Xi Chapter of Delta Sigma Theta.
Racial profiling was also discussed. Students discussed what their definition of the subject was and situations they have been in. Many students said that had been profiled here in Martin or cities close by such as Jackson.
Robert Normert, president of the Zeta Kappa Chapter of Kappa Alpha Psi at UTM, explained that he has been profiled numerous times because of the vehicle he drives. He said, "I drive a [Oldsmobile] Cutlass, and I have been pulled over several times and had my car searched for drugs."
He also said he feels there is a double standard on situations like these because white males put extravagant tires on the trucks that are illegal, and they don't get pulled over, but black males are pulled over because of the size of their rims.
Feature photo credit: Maegan Jolley