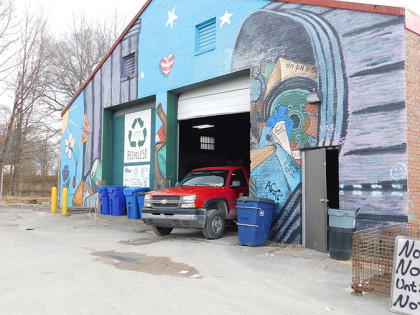 On the edge of campus across the street next to the motor pool parking lot sits the only recycling center for the community of Martin and its funding is decreasing.
The UTM recycling center is open from 7 a.m. to 1 p.m. on Monday, Wednesday, Friday and Saturday, and from 3 p.m. to 6 p.m. on Tuesday and Thursday. At times, according to Mike Davis, recycling center coordinator and interim custodial manager for over a year, cars will be lined outside of its gate to drop off items.
The center accepts aluminum cans, No. 1 and No. 2 plastics, No. 2 color plastics, metal soup cans, ink cartridges, cardboard, plastics bags, motor oil, some electronics and scrap metal. Velda Rogers sorts these materials that have been dropped off and placed in one of a handful of metal, rolling carts. She then pushes these carts inside to sort into large boxes that line a rear wall.
Rogers is one of two full-time employees that works in the recycling center. She has worked at the recycling center for 10 years, and 39 years total at UTM. Two days a week, she picks up and sorts UTM's recycling while keeping up with materials brought in by the community.
"Some of them, I'll help them," Rogers said about being unable to help people unload their items due to the urgency to empty the bins.
Davis receives daily complaints and this issue is one of them. In the past, there was a position for assisting and greeting community members.
"I don't know that we're under the mistaken idea that some people should help unload, or we're just absolutely on our own," said former UTM history professor, Dr. Marvin Downing. He described a recent trip to the center where one worker sat in a truck while he was unloading books to be recycled.
Kenny Rogers also works full time, like Velda, but over the weekends. Other workers include two part-time students and three work-study students.
This lack of labor has also cut into the center's efficiency and profit. Baling materials provides the most profit and without workers to do so, materials are transported in their sorting box and take up space for a lesser amount of recycled goods.
Many changes are due to declining enrollment that began in Fall 2011, which in turn effects the budget for labor.
This year the budget is $18,997 or 2,620 hours of labor.
To compensate for this, the center changed its hours of business. In the past it was open 24/7. Hours were changed in 2015 after finding many unaccepted items that had been dropped off.
According to Davis, this has not slowed the traffic.
"All we did was funnel people into the times that we were open so they didn't slow down. The same people that were recycling, recycled," he said. "It's just they're crunched into a different time spot and they bombard us all at one time."
In addition to lack of help for community members, other complaints include the spread of litter. When bins are full, recycling is laid on the ground and whisked about by the wind.  It has gotten caught in surrounding trees, pastures and the nearby greenway.
"Some people have just been turned off by the attitude and the things that are going on. … It's getting all over the place," said Audrey Roberts, former President of Martin Manufacturing and member of the Martin Beautiful Committee, about the recycling.
Another source of tension is the fluctuating accepted items. This is in part because of the changing market rate for items. For example, high grade plastics like numbers 3, 4, 5 and 7 are no longer taken because they are not in demand. If they are not in demand, it is difficult to find a vendor to pick up the items. For this reason, glass is no longer collected.
"Either we can pile it up in this corner back here and we can just let it rot or we can quit taking it," Davis said.
Some electronics are on this list. Computers must have all parts to be recycled including the speakers, tower, keyboard, mouse and monitor. Otherwise it goes into the dumpster which fills and costs to be dumped.
TVs are not taken either. According to Davis, many people will bring older, large televisions but they cannot be taken due to the mercury switches inside and costly pick-up.
Davis frequently searches for vendors with the help of Dr. Angelina MacKewn, professor of psychology and a founding member of UTM Recycles.
MacKewn was born and raised in Canada and applied to teach at UTM in 2003 because she saw that there was a recycling center on campus.
"I thought 'Oh my gosh this is fantastic' and I was so disheartened after I left here," she said.
She took the position and though no one she asked knew about the recycling center, she began her involvement after meeting Kosta at a meeting called by a Tennessee Department of Environment and Conservation representative.
MacKewn has helped write grants for the center, including a newly acquired grant from the UT Alliance of Women Philanthropists. The spending is still being planned. She also sends students to the center for community service hours and volunteers her own time.
"I get all of the cuts and I don't know what goes on administratively and I don't know what you have to do, but it just seems like we're taking something where we could be a leader," MacKewn said.
The recycling center came together in 1989 with help of now-retired custodial manager, Dennis Kosta, and a student group. Through their efforts, they've helped get the community involved and educated about recycling.
"We came a long way and it kind of hurts to see that it has taken a turn the other way, because we still need to be more efficient and we can be and it's a money saving thing if they would do it right," Kosta said.
(The UTM recycling center is open to the public six days a week. Pacer Photo/Kristina Shaw.)