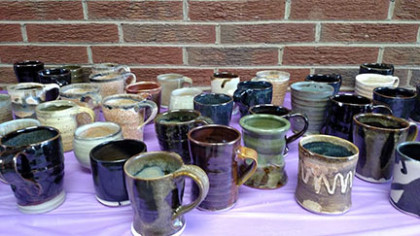 On Saturday, Feb. 4, 2018, the first Cups for the Cure event was held at the Wesley Foundation from 2-4 p.m.
During the event, associate professor of Visual and Theatre Arts, David McBeth and students from his ceramics classes sold handmade cups and mugs. These items were sold for $15 each with 100 percent of the proceeds being donated to two cancer foundations, the West Tennessee Healthcare Foundation and the Joliet Oncology and Hematology Association Foundation.
People who purchased a mug were also able to sit down and enjoy a variety of beverages such as coffee, tea and lemonade, and hors d'oeuvres, including cookies, pastries and sausage balls. These items were donated to the event by different community members and local churches, with a majority of the refreshments coming directly from the Wesley Foundation.
Approximately 250 people attended the event, with over 200 mugs being sold and an approximate $3,000 being raised for charity.
"This is a great event to bring out the community in support of a great cause. It is fun to get to see a lot of people, know you're helping out, and go home with a great mug," said Rachel Stephens, the Student Life Coordinator. "I'm excited to see where the future of Cups for a Cure will go."
Roughly 360 cups and mugs were available at the event. The group began making the ceramic items at the beginning of the semester, and therefore completed them in a three week timespan.
"It is absolutely wonderful to see this great turn out this afternoon. People seem happy with their cups, which makes me happy. The support for cancer patients is wonderful," McBeth said.
McBeth also emphasized that the cups were not only available for this one event. There will always be a box full of mugs for the Cups for the Cure fundraiser and anyone interested can contact him at any time to purchase one.
"[David McBeth] is a great guy with a wonderful heart who does as much as he can for the community," said Betty Baker, the director of WeCare Ministries.
McBeth and his students intend to make Cups for the Cure an annual event.
"… We believe it will continue to gain community involvement and success. Partnerships are already beginning with other organizations on campus and in the community," said Miranda Rutan, a participating student majoring in marketing and graphic design.
A sample of the work created by art students, with the help of associate professor of Visual and Theatre Arts, David McBeth, is displayed for purchase. Collected money is donated to charities that benefit cancer patients.  (Photo Credit/Tamara Beard)