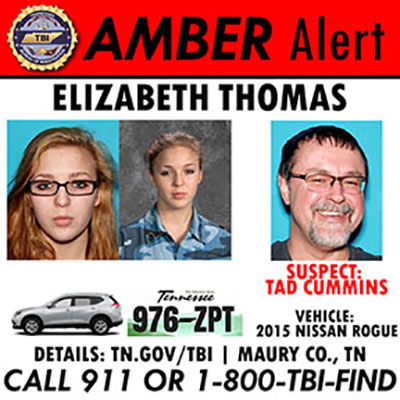 The search is still on for missing 15-year-old Elizabeth Thomas from Columbia, Tennessee. Authorities issued an Amber Alert for Thomas on March 13, after her parents reported her missing.
The Tennessee Bureau of Investigation has partnered with the FBI and local authorities to assist with the search.
Authorities suspect that Thomas has been abducted by her former Maury County high school teacher, 50-year-old Tad Cummins. District Attorney General Brent Cooper claimed that Thomas led a "difficult life."
Cummins recently faced a reprimand from school administration after a student report was filed on Feb. 6 claiming that the two were caught kissing. Cummins was formally fired on Tuesday, March 14.
On Monday, March 13, Thomas was last seen at 8 a.m. at the Columbia, Tennessee, Shoney's restaurant. Authorities have confirmed that recent browser history on Cummins' computer has turned up extensive searches concerning teen marriage. Shortly before Thomas went missing, her Instagram bio was updated and the word "wife" was added.
James Thomas, Elizabeth's brother, told authorities that his sister made a disturbing statement before she disappeared on Monday.
"She told my younger sister that if she wasn't home by 6:00 to call the police. Call for help I think was her exact words," James Thomas said. James went on to say, "I think she had no intention of leaving the family, and if she knew about it, she knew it was a bad idea and that she did not want to go."
The TBI's investigation issued an Amber Alert update stating Cummins "may have been abusing his role as a teacher to groom this vulnerable young girl for some time in an effort to lure and potentially sexually exploit her." A warrant has been issued for Cummins' arrest on charges of aggravated kidnapping and sexual contact with a minor.
Investigators confirmed that they were able to place Thomas and Cummins in Decatur, Alabama, at 3:06 p.m. on March 13; however, neither Thomas nor Cummins have known ties there.
Cummins has been added to the TBI's top 10 most wanted list. Over 900 tips have been called in, however, no promising leads have stemmed.
Authorities have been looking for a silver Nissan Rogue with the Tennessee plate 976ZPT. There is a $1,000 reward for information leading to his arrest.
On March 28, the Tennessee Bureau of Investigation held a press conference concerning Elizabeth Thomas' disappearance. Authorities reached out to Cummins saying, "It's still not too late to do the right thing. As a self-proclaimed man-of-faith, you have the power right now Tad, to answer the prayers of your family, your community and so many people across the country and bring Elizabeth home."
On March 30, a report was filed claiming that Thomas and Cummins were spotted in at a Shell gas station in Collierville, Tennessee. Shelby County deputies positively identified the suspect. A report has also been made that Cummins was seen driving a van in midtown Memphis, Tennessee. Authorities have not yet confirmed that sighting.
The TBI has released these photos of Elizabeth Thomas and Tad Cummins to the public. To report a sighting, call 911 or 1-800-TBI-FIND (Graphic Credit| TBI).