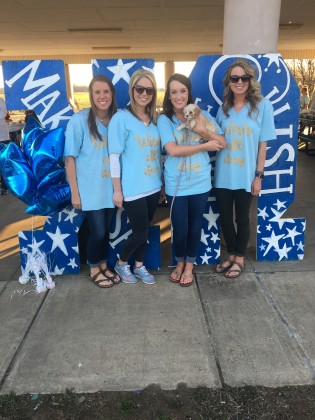 This past week the UTM Chi Omega Xi-Zeta chapter held their annual Wish Week.
Chi Omega sorority established an alliance with the Make-A-Wish Foundation in 2002 to help raise money and awareness for the cause.
The Make-A-Wish Foundation works to grant 'wishes' to children with life threatening illnesses so that they can enrich their young lives with hope, strength and joy.
"I am the Director of Make-A-Wish for Chi Omega, and I am in charge of organizing Wish Week, our philanthropy week, and planning Wish Reveals," said Amanda Lund, Director of Make-A-Wish for Chi Omega. "I have loved being the Director of Make-A-Wish and raising money for such a great organization. Even though all the planning can be stressful, seeing the look on a child's face when they come to their Wish Reveal and get their wish granted makes it all worth it. I think being a part of the Make-A-Wish foundation has given us so much more than we could ever be able to give to it."
Throughout the week sisters of Chi Omega gathered in the University Center to collect donations for the foundation. The girls also sold tickets for their Wings for Wishes event. This was held on Thursday, March 23, and was open to the public.
The wishes that this sorority helps grant to children in need can change these people's lives forever. No matter what the odds, the Make-A-Wish Foundation manages to make a child smile.
"As I was going through recruitment my sophomore year, I was very focused on each sorority's philanthropy and the impact they made on people's lives. As soon as I walked in Chi Omega's room, I immediately fell in love with Make-A-Wish." said senior Chi Omega member, Jacey Bomar.  "As a senior, I've had three years to be a part of the Make-A-Wish Foundation, and I could not be more proud of my decision. Watching the children and their faces light up when they enter the room and see their wish being granted is indescribable. Witnessing the impacts first hand makes you realize the true blessings in life and how you should never take anything for granted."
To find out more information on the Make-A-Wish foundation and Chi Omega alliance, visit http://chiomega.com/about-us/national-alliance-with-make-a-wish/.
Sisters of Chi Omega gather for a photograph at the sorority's Make-A-Wish event. (Photo credit / Jacey Bomar)