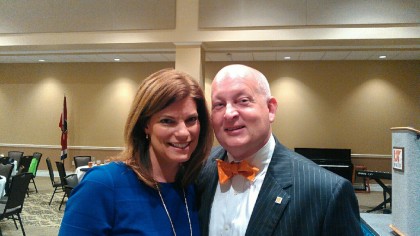 The "What Women Want" fundraiser took place yesterday, March 21, 2017, at the Boling University Center of UT Martin. This fundraiser was hosted by the WLJT public television station.
According to Katrina Cobb, the Events Coordinator, this fundraiser was created to raise money to fund local and national programming outreach services.
"When we decided to have this event, we contacted the local hospital (Tennova Volunteer Martin) and asked them if they would like to cosponsor with us," Cobb said. "We wanted this to be something for every woman."
The dual partnership allowed Tennova Volunteer to bring in many vendors for medical testing and information sharing, alongside many other vendors that sold items like jewelry, clothing, beauty supplies and more.
After viewing the booths, patrons were treated to a meal catered by Sodexo in the UC ballroom and a fashion show. This event was hosted by Chancellor Dr. Keith Carver. The show encompassed many different styles from casual wear to formal attire, both men's and women's fashions and ranged in age from infants to adults. The clothing providers included local companies Sugar and Spice, 5 Seasons, 2 Doors Down, Joanne's and more. This was concluded with a song, Reba McEntire's "Till You Love Me," sung by Miss University of Tennessee at Martin, Brenna Wilkins.
After the performance, Hollianne Carver, wife of Chancellor Carver, spoke. She said she was surprised when she was asked to speak and stated that she was unsure of what to talk about.  In response, she was asked to tell the audience about herself. After, she talked about what she believed women want.
"Wow, I could make a lengthy list of what women want," she said.
She talked about posing this question to her three children. Each gave an answer, but it was her son, Jack Thomas, who gave her the best answer.
"I think they want to give love, and I think they want to be loved," said Hollianne, quoting her son.
She went on to talk about her family and her hometown of Lexington, Tennessee. She also spoke about her college career, changes of major and more. She concluded her speech with a story of a friend that came to console her when she was in tears over a situation involving one of her children.
"That day, I just realized, just show up. Just show up, and just show love," she said.
She currently lives in Knoxville while her daughter Carson, finishes high school and her other two children, Jack Thomas and Britton, finish their respective school years.
Hollianne Carver and Dr. Keith Carver stop for a photo on March 21, at the 'What Women Want' fundraiser. Pacer photo/Jerry Garcia