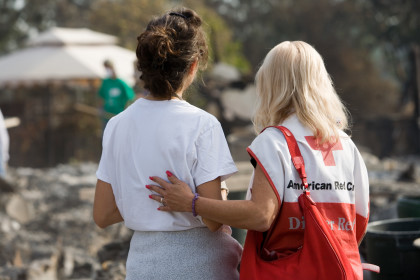 In times of tragedy, it is easy to fall into the trap of helplessness.
This is especially true in light of the current catastrophes unravelling across the country and across the globe.
Hurricanes Harvey and Irma wreaked havoc on Texas and Florida, claiming lives and leaving many without a home. More destruction from hurricanes, Maria and Jose, is soon to follow.  As we speak, Puerto Rican citizens are evacuating their homes in anticipation of Maria's wrath.
Disaster has also come in the form of earthquakes, which have hit Mexico. The first took place on Sept. 8 and was a magnitude 8.1 quake that struck Mexico City. On Tuesday, Sept. 20, a magnitude 7.1 earthquake hit southeast of Mexico City in Puebla. NBC reported 217 people have died.
You may watch in dismay as the media covers every horrific detail, and think 'I'm just a college student. There is nothing I can do about this.'
That is where you are wrong. You can always make a difference, but you have to try first.
Affecting change does not always mean having a deep pocket book. Do not discount yourself as a person because you may not have money to give. You are worth more than your wallet.
However, if you do give a monetary donation to a relief organization of your choice, do not be discouraged by the amount. Every penny helps and you have taken the initiative to do what others will not.
Yes, money for humanitarian relief is helpful. What is also helpful is for people to do things like spread the word, volunteer their time and help in other ways.
We at The Pacer encourage you to try to help your fellow man in whatever way that you can during this time and always, to make a positive difference.
The bottom line is, the people on the other side of the screen deserve it and need your help, no matter what it may be. You can make a difference.
(Red Cross relief in California. Photo Credit/Creative Commons)