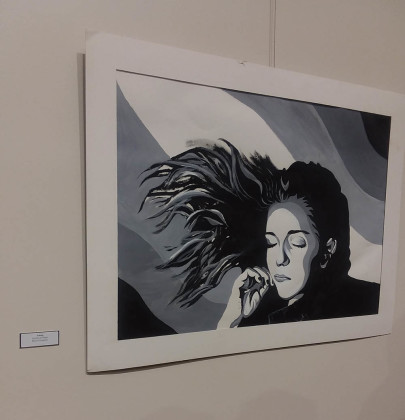 On Tuesday, Nov. 14, the UTM Fine Arts Building held a student art exhibit featuring fellow students Brendaynn Triplett and Becca Toungette.
Toungette's work, which ranged from poems and paintings to some sculptures, centered all around her theme "Nocturnal."
When asked about the inspiration behind her exhibit, she said, "The inspiration behind my exhibit is my personal battle with insomnia. I have had insomnia for over half my life and I recognized it is as informative but still relatable because everyone has had a sleepless night before."
Ricki Erwin, a senior Communications major and personal friend of the artist, had nothing but great things to say about the exhibit.
"It is amazing to see how she so eloquently told the story of her life and combating her struggle with insomnia," Erwin said. She also discussed Toungette's piece about all the ways people have tried to help her in the painting, "You should get a Cat," in which there are all these tips people give her in order to help her overcome her struggle surrounding a silhouette of a cat.
Triplett's exhibit had many creative pieces as well, mainly featuring felting artwork and fluid acrylic. In one of her pieces, "Suicide is NOT the Answer," there is a mixed media theme. It portrays a felted brain and pills scattered beside it with an acrylic tile above it with an image of a skull in green. She also created very inventive portraits of friends and faculty made of various paint samples.
When asked where she found her inspiration, she replied, "As an Art Education major, our show has to revolve around an enduring idea. That is a larger idea that people throughout the ages deal with, and we bring that idea in the class, work with it, and then they know they can tackle that idea. Mine is self-image. I wanted to discuss both positive and negative self image. I have depression and anxiety. This show is about that. It is meant to make people think about mental disorders in a different light. Many times I can't explain my emotions in words, but I can create artwork that does."
UTM student Derricks Pointer spoke on Triplett's artwork and how it affected her.
She smiled as she said, "I am not surprised by how emotional I am getting as I look around at her work. I know her personally and to see her emotions put into her work, I am especially moved by her art that personifies emotions and mental disorders. They are often hard to express but can be shown through art."
The exhibits will be on display in the Fine Arts Gallery through Dec. 2.