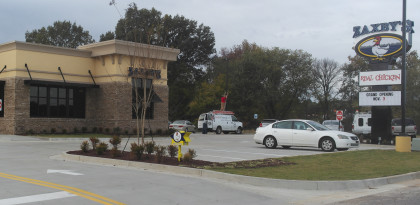 Zaxby's new Martin location grand opening was scheduled for November 3rd.
The first 100 guests to visit the restaurant during its grand opening received a Fanatic Pack of 52 free "Dealz," good for a year's worth of free food.
Zaxby's is a fast-casual style fried chicken restaurant with a large presence in the Southeast. The opening of the Martin location will marks the 63rd restaurant in Tenneessee, and the fourth for lisencees Chip Hults and Chris Manwell. Hults and Manwell are also planning openings for two other locations in Union City and Dyersburg.
The "fast-casual" format is a mix between fast food and casual sit-down dining. Customers place their orders at the front counter and pick up their prepared-to-order meals at the counter when they are ready.
Customers will see menu items such as chicken fingers, wings, sandwiches, and salads. Zaxby's offers four different types of salads, also known as Zalads, such as The House, The Blue, The Caesar and recently added The Cobb. In addition, the location will contain a Coca-Cola Freestyle machine, which gives customers more drink options than a normal soda fountain.
The building is capable of seating up to 70 patrons, and is decorated with custom vintage prints and memorabilia of local high schools and colleges.
Zaxby's also offers a new line of premium milkshake flavors, including Birthday Cake, Banana Pudding and new addition Chocolate Cookie.
For those who have no time to sit down and eat, Zaxby's will have a drive-thru service to meet the needs of customers on the go.
Zaxby's, a supporter of the Make-A-Wish Foundation, was ranked by customers as the Most Craveable Fast Casual in America in Technomic's Consumer Brand Metrics program in both 2013 and 2014. In addition, Zaxby's was also listed among the organization's Best Franchise Deals in 2013 and the Top 30 Best Fast Food Restaurants.
For more information, visit zaxbys.com or follow Zaxby's on Facebook or Twitter.