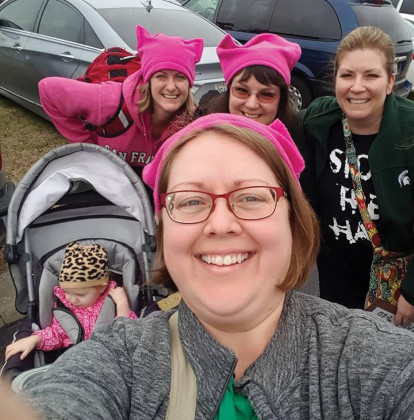 Millions of women gathered in Washington and in other cities across the country on Saturday to show their anger and express solidarity.
One such demonstration was held in Nashville. This event was attended by several members of the UTM faculty, including Dr. Michelle Merwin, Dr. Renee LaFleur, Dr. Chara Van Horn, Dr. Liz Aleksander and Caroline Ideus.
"The solidarity amongst the people in the march, we can feel it, we were there for a purpose," said LaFleur. "Everyone has their own reason to march and our theme was … that a foundation of American values is a right to dissent.
"I march for my daughter to make the world a better place for her," she said.
Ideus said that her first impression was that "way more people" showed up than she expected.
"It gave me the momentum to continue on with communicating with local politicians and being active locally and nationally," said Ideus.
Aleksander said she felt connected to others in the area in a way she had not been before.
"Now that the march is over, we're making plans to lobby our legislators so that the compassionate voice of the march doesn't get drowned out," said Aleksander.
Aleksander said that it was also heartening to see students from rural West Tennessee at the march or asking about it afterwards.
A highlight of the Nashville march was a poem titled "Nasty Woman," written and read by 19 year-old Nina Donovan of Franklin. Donovan's poem was also read by actress Ashley Judd at the Washington march.
Demonstrators from all over the country arrived in Washington in buses, caravans, and packed the Metro transit system near the National Mall to hear from women's rights activists, lawmakers and celebrities. The march began Saturday along Constitution Avenue towards the Washington Monument.
Protesters addressed several issues during the march, such as Trump's comments towards women during his campaign. New GOP leaders in Washington targeting Planned Parenthood and abortion rights were also addressed. Protesters additionally spoke out about LGBTQ and disability rights. 
Messages flooded social media as mothers and daughters were seen boarding flights, buses, and other forms of transportation into Washington to exercise their First Amendment rights.
"This is the upside of the downside," activist Gloria Steinem said to the crowd Saturday morning. "This is an outpouring of energy and true democracy like I have never seen in my very long life."
Celebrities present at the Washington march included Judd, America Ferrera, Cher, Lena Dunham, Katy Perry, Scarlett Johansson, Alicia Keys and Madonna. 
"We march today for the moral core of this nation, against which our new president is waging a war," Ferrera said to the crowd. "Our dignity, our character, our rights have all been under attack and a platform of hate and division assumed power yesterday. But the president is not America. … We are America and we are here to stay."
According to The Washington Post, massive crowds caused some problems. D.C. Police reported that they made no arrests related to the march. 
Democratic opponent Hillary Clinton was not present at any of the marches, but tweeted a response to those assembled.
"Thanks for standing, speaking & marching for our values @womensmarch," read Clinton's tweet. "Important as ever. I truly believe we're always stronger together."
Renee LaFleur takes a selfie in front of Chara Van Horn, Nicole Crist and Michelle Marks Merwin at the Women's March in Nashville (Photo Credit/Renee LaFleur)