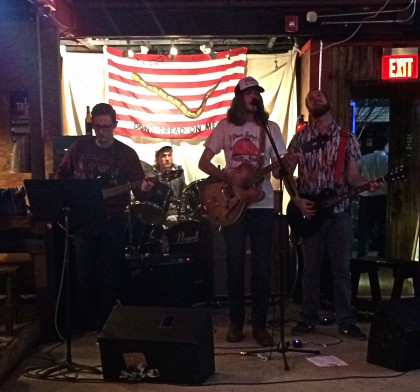 UTM alumnus Matt Wolf and his band Wolf performed on Friday, April 8 at Stables Tap Room in Martin, Tennessee. The performance was part of the UTM chapter of Public Relations Student Society of America (PRSSA) scholarship fundraiser.
Matt Wolf graduated from UTM in 2015 with a bachelor of arts in communications. During his collegiate career at UTM he started the band Wolf.
Wolf is made up of four group members. Matt Wolf, the singer and guitar player; Ian Alley, lead guitar player; Preston Slayden, bass player and Andrew Legan, drummer.
The band performed two 45 minute sets with one short break in between. Some of the songs performed during the sets were Bob Seger's Turn the Page, Kings of Leon's Family Tree and Whiskey Bent and Hell Bound by Hank Williams Jr. Along with some originals songs like Let You Go, which is also often played on WUTM 90.3 "The Hawk."
Wolf also performed some songs that he wrote from his life experiences.
"We were very excited and incredibly grateful to have Matt and the band play for us (PRSSA) at this event. I saw him play around this time last year, so when our chapter's historian suggested asking him, I knew he would be a perfect fit for what we had imagined,"Chelsea Monroe, president of the UTM chapter of PRSSA stated.
The money raised from this fundraiser will help fund PRSSA's first annual scholarship, which will be awarded at this year's 2016 Communication Awards Banquet on April 14.
The members of PRSSA were really proud with the crowd turn out and the performance by the band.
Wolf enjoyed playing at the Stables again. Being back felt good for the band and they were excited to be invited back to help out with PRSSA's fundraiser.