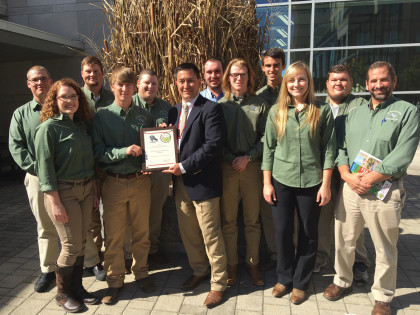 In his spare time, you can find Dr. Eric Pelren, professor of wildlife biology, spending time with his kids, researching, fishing, gardening, tracking raccoons with radio transmitters or, as of this summer, putting glow sticks on top of PVC pipes hanging from trees to find tree frogs.
"I got this idea that they're sitting there in that PVC pipe waiting for insects to come along," Pelren said. " … I did an experiment this spring and it didn't work. I think it's too cold."
The Middle Tennessee native has taught UTM's Natural Resources Management degree since coming to Martin in 1997.  
He received his bachelor's degree from Berea College in Kentucky and when he was looking for assistantships for his major, he went to the University of Tennessee, Knoxville because of a love for the mountains. While there, he studied birds called ruffled grouse. Pelren received his doctorate at Oregon State University when he received an offer from a professor to continue studying grouse. Afterward, he and his wife moved back to the southeast where, he said, "they know how to make good barbeque."
Pelren is still interested in upland forest wildlife habitat relationships even though, as a teacher, he has become what he called a "generalist," and called it fun.
"I go into it with my students as an enthusiastic amateur colleague," he said. "It's like 'OK, let's learn together.'"  
In his time at UTM, he has received awards of recognition such as the Outstanding Advisor Award, Ray and Wilma Smith Professorship, Coffey Outstanding Teacher Award and most recently, the title of fellow with the Wildlife Society in April.  
"I was surprised. I was humbled," he said. "You go about your work, you look around and you're surrounded by other people doing good work. You're just trying to figure out where you can do the most good you can do."
Fellows are appointed for life, and serve as ambassadors of the national organization. They are active members who have been a part of the group for at least 10 years.
Pelren has been involved in the organization at all levels. As a student, he joined the Wildlife Society in 1988 and became a graduate-student state representative. He was also involved at the state level in Oregon. He currently serves on the Tennessee executive board and is the UTM chapter's advisor.
"In my four years here, Dr. Pelren is the most passionate professor I've had," said Gunner Boucher, senior Natural Resources Management major and Wildlife Society president. "His passion for the wildlife profession is very apparent in his teaching as well as his service as advisor of the UT Martin Student Chapter of the Wildlife Society."
The UTM chapter has 50 to 75 members and meets every few weeks, according to Pelren. It serves to give students experience and prepare them for a competitive job field.
Participants engage in various service activities such as clean-ups, education seminars and habitat restoration. They are also involved with professional contracts for agencies like the Tennessee Wildlife Resources Agency and the U.S. Fish and Wildlife Services. The group has won national recognition by being named the National Student Chapter of the Year on two occasions and Southeastern Outstanding Student Chapter of the Year.
"No. I love this," Pelren said in response to those who ask him if he would like to change positions or move. "I want to retire doing this. I'm blessed. I have just bumbled into, for myself, what I feel like is the perfect job."
Members of the UTM Wildlife Society pose with Mark Smith, center, president of the Southeastern Section of the Wildlife Society, and chapter adviser Dr. Eric Pelren, far right (Photo Credit/College of Agriculture and Applied Sciences).