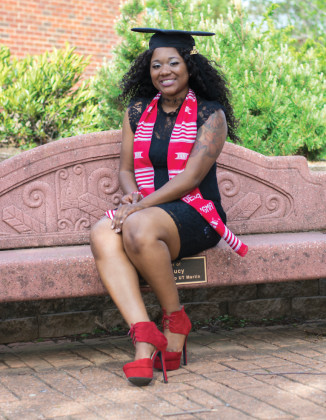 My entire undergraduate career, I wished time would speed up, but now I wish I could make it stop for just one minute.
Since that's not going to happen, I have been spending the past few weeks soaking in all the "last's" and the fact that I am actually graduating college!
As I write this with nine days, 23 hours and 58 minutes until "The Big Day", I can only reflect on how this university has shaped me into the person I am today.
Despite the many obstacles I've had to overcome to get to this point, I must admit it's been a journey well spent. In Spring 2014, I joined the best black women's organization in the world, Delta Sigma Theta Sorority Inc., and gained 22 beautiful sisters. In the same year, I found out I was going to be a mother.
While the dynamics of my life changed tremendously after giving birth to my amazing daughter, Zoey, it didn't stop me from continuing to pursue my education. If anything, I became even more motivated. There are times I would take her to class with me, and some nights she would keep me up all night, which I think is because she know I needed to study for something.
Coming into college in the fall of 2012, I knew I would not leave until I had a degree. Honestly, that's all I expected to leave with. Instead, I've gained way more than that. I would like to thank the Communications department faculty and staff for their continuous support, encouraging words and listening ear. I'd especially like to thank Professor Andrew Brown, Dr. Chara Van Horn and last but surely not least Professor Tomi Parrish.
I would also like to thank my mother and father. I have always felt like I would never be able to repay you all for you have done for me, but hopefully this degree will count for 25 percent of it or something.
If I had to sum up my college experience in one word, I would say "growth." These years have included some of the worst and some of the best days. Now it's time to do the "first's" all over again. Much love to all.