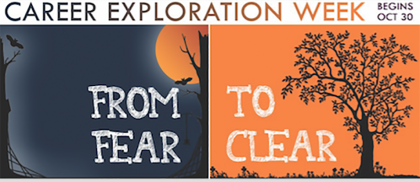 The UTM Career Planning and Development Office will be holding a Career Exploration Week during the week of Oct. 30.
Career Planning and Development career counselor Melanie Young said that the goal of Career Exploration Week is for people to understand what career exploration really is.
"It's a great tool for those who are majoring in 'I don't have a clue,' all the way through 'hey, I know what I want to major in,' and 'I know what I would like to do, but what else can I do with this degree,'" Young said.
"It can also mean exploring yourself to understand yourself better.  Your values, interests, and personality affect your career choices," she said. "I think that too often people hear the word 'career counseling' and assume that it is only for people who don't know what they want to do."
Young said that career counseling is for students who are contemplating what they should do with their degrees as well as for students who do not know what career to pursue.
"'Oh my gosh, I love English, I love History, but I don't want to teach,' so what can I do?" she said.  "You can do all kinds of things … but you need to know who you are, what your interests are, your strengths and weaknesses.  We have tools available to help you discover all that."
Young said that TypeFocus, a free tool accessible through Handshake by exploring the "Resources" section on the Handshake website, provides students a Jungian-based personality assessment similar to the Myers-Briggs personality assessment. Handshake is accessible to all UTM students through the myUTMartin portal.
"We can talk with you about what that means.  For instance, the Holland Codes – which you get when you take the TypeFocus Interest assessment – help you to match your interest areas with potential careers.  Careers have their own 'personalities' so the closer your interest codes match those of the career you are exploring, the greater the likelihood that you will be happy in that career area," she said.
Career Exploration Week workshops include a session on meeting the CPAD team and "Wisdom and Tactics," to be held Monday, Oct. 30.  A TypeFocus overview and a workshop on overcoming career fears, conducted by a panel of college deans and representatives, will be held Tuesday, Oct. 31.  Workshops on exploring V.I.P.S (Values, Interests, Personality, and Skills) and a transition and career exploration for transfer students will be held Wednesday, Nov. 1.  Workshops on exploring online resources and résumé writing will be held Thursday, Nov. 2. Workshops on using Handshake for first-year students and a drop-in session for one-on-one career counseling will be held Friday, Nov. 3.  Times for these events may be found on the Career Events Calendar on the CPAD website.
Young said that CPAD also helps students find internships, part-time jobs, and jobs after graduation. These services prepare students for employment with training sessions on verbal and written communication, leadership and experience. CPAD also provides assistance to students who want to attend graduate school.
"Opening your mind to learn about yourself – who you are, what your values are, and what interests you – is so important.  You can make a positive choice and you don't have to do it alone.  CPAD has a staff of experienced professionals who are here to help you figure those things out," she said.
"Students often come to school having never truly explored their chosen career field," Young said.  "Right now, freshmen need to learn more about who they are as they're still developing interests.  Sophomores need to know where their interests lie so they can start focusing on internships to gain experience and develop marketable skills."
For more information, contact Young at 731-881-3714 or at myoung@utm.edu. The CPAD website is www.utm.edu/careers, and the office is located in 210 University Center.
(Photo Credit/Office of Career Planning and Development)