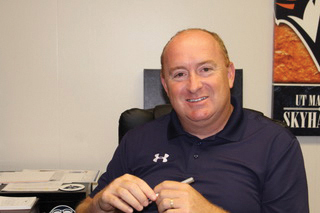 When UTM was in need of a new Athletics Director, the task of picking the perfect candidate for the position fell to Chancellor Keith Carver and a search committee.
In their search, they settled upon a man with over 18 years of experience from various schools across the country, Kurt McGuffin. According to Sports Information, Carver had this to say on McGuffin being chosen as the new Athletics Director:
"Kurt is a top choice selected from a pool of outstanding candidates, and we are excited to welcome him into the Skyhawk family, I believe he has all the skills and abilities necessary to guide our athletics program into the future."
McGuffin brings a wealth of experience, working at schools such as Kansas State University, University of Colorado and Missouri Western State University before coming to UTM. He has experience at schools that are bigger and slightly smaller than UTM. Bringing his experience to UTM's Athletics Director position helps with managing the athletics budget and dealing with other conflicts that may arrive, as well as the standard parts.
I sat down with Mr. McGuffin to find out just what his vision was for the future of UTM's athletic program and to find out more about who the new Athletics Director is.
When asked what first inspired him to apply at UTM for the open position, McGuffin said, "I think the thing that probably intrigued me the most was that I'm a small town kid from Southeast Kansas, and very seldom do you have a Division 1 school in a town similar to that. Raising our kids in a small town is important to my wife and I. When I researched it a little bit more, obviously Dr. Carver and his energy and positiveness probably put me over the top to try to get the position."
McGuffin is coming to Martin (population ~11,000) from Missouri Western State University in St. Joseph, Missouri which has a population of about 80,000.
The new Athletics Director first visited UTM's campus in April and said he thought that people had a lot of pride in the town and the campus. He also didn't expect to be as impressed with the facilities as he was. "[There are] some things we still need to do to tweak them," McGuffin said, "But in the end UTM is looking pretty good, facility wise."
McGuffin added, "It's odd to start during the summer because you don't really have an event to evaluate yet."
Odd indeed, as the campus is in a preparation mode for the fall semester and there haven't been many opportunities to get to know students yet. McGuffin will get to see his first UTM athletics action on August 31 for the first football game of the year, but until then he has been doing all he can to familiarize himself with the coaches, the campus and the school's athletic standing in the OVC.
McGuffin has always had a desire to teach in some capacity and has been interested in athletics for as long as he can remember. In high school, McGuffin played basketball, football, golf, soccer and ran track. He was also recruited to run track and field in college, but decided against it because he wanted to be a basketball coach.
His love of basketball was furthered when he was approached to be a practice player and manager for Kansas State. After receiving a full scholarship, he graduated with his history degree in secondary education. After graduation, McGuffin attended Wichita State in pursuit of his master's degree. Unfortunately, Wichita State did not have a graduate assistant position in basketball. They did, however, have one in development/fundraising which he took and furthered himself on the road in the athletic administration business. He ended up getting a degree from Wichita State in education with an emphasis in athletic administration.
McGuffin is living proof that hard work, desire and flexibility pay off. He, like everyone else, has encountered conflicts in the past. He says he's had jobs before that decided to give him promotions and others that flipped his world around when they didn't, but every time he has continued towards his goal and is very happy to be serving as the Athletics Director for UTM a Division I school.
McGuffin certainly seems ready to get started this fall. McGuffin likes to know everything he can about the program into which he's taking control, and is excited to be a hands-on Athletic Director at UTM.
The first football game will be the Thursday, August 31, and with classes starting all the student athletes will be here. Kurt McGuffin, UTM's new Athletic Director, will certainly be ready to meet and get to know all the athletes and coaches which make up his new program.
(Athletics Director Kurt McGuffin. Pacer Photo/Bre Rudolph)