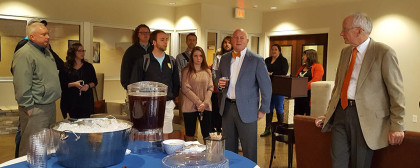 A reception was held in recognition of Dr. John Glass III, Assistant Professor of Modern and Contemporary American Literature, and Dr. Lionel Crews, Assistant Professor of Physics, at 3:30 p.m. on Nov. 8 in the Boling University Center's Welcome Center.
It gave students an opportunity to welcome Glass as the new director of the honors program and thank Crews for his work as the current director.
Over 30 students and faculty members attended the reception, which began as UTM Chancellor Dr. Keith Carver gave his opening remarks.
After Carver and Crews both presented short speeches, Glass introduced himself to the students. Glass mentioned that he is excited to work with students and to have an opportunity to develop more programs for UTM in order to be more competitive with other peer institutions. Students were then given the chance to talk with both Glass and Crews while  enjoying light refreshments from Sodexo.
Crews, who has served as Honors Program director since 2011, will be sharing the responsibilities with Glass in spring 2018 for an effective transition. Glass will solely take on the responsibilities of director effective summer 2018.
When asked what he would miss the most about his position, Crews said he will miss the students.
"It is so great to see them go from bright-eyed freshmen to graduating seniors," Crews said.
Carver and Interim Provost and Vice Chancellor, Dr. Richard Helgeson, first announced the selection of Glass on Oct. 26. Carver and Helgeson took applications and held interviews for the position, and asked candidates to develop a vision for the honors program. Only two interviews were held before selecting Glass.
(Top photo: The reception for new honors director John Glass was held on Nov. 8, 2017 in the UC Welcome Center. |Pacer Photo / Corrie Campbell)