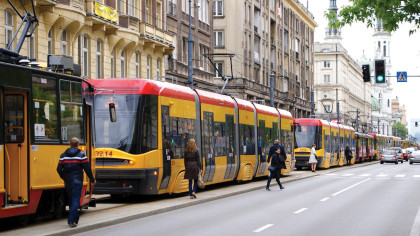 Next spring, a unique travel opportunity is being offered for students at UTM: a trip into the past.
In May 2018, the professors and a group of students will set out to Eastern Europe to delve into the cold-shoulder history between the U.S. and Russia.
"This travel study and the accompanying course will explore the Cold War and its legacy in Eastern Europe. We will study and then visit four locations which were focal points of struggle during that time and are still feeling the effects socially and politically today: Berlin, Germany; Prague, Czechia; Budapest, Hungary; and Warsaw, Poland," said Dr. Lewis, one of the leaders of the tour.
Leading this travel study is Dr. Humphreys, Assistant Professor of Political Science and International Studies; Dr. Haig, Assistant Professor of Graphic Design; and Lewis, Assistant Professor of History. This trio, with their unique educational backgrounds, will lead the study across four different countries in May 2018.
"The three of us—Carrie Humphreys, Sarah Haig, and myself got the idea that our three subjects—political science, art, and history—would make for a fascinating interdisciplinary travel study," Lewis said.
"The Cold War seemed a natural choice for these subjects: to understand the history of the Cold War, you have to understand the political systems driving everything; alternatively, you have to understand the history to make sense of today's political systems. Art was also hugely important in the Cold War as propaganda was a primary weapon for both sides in fighting this 'war.'"
"We will be exploring the period of the Cold War, which lasted from the late 1940s to the late 1980s, as well as what implications this has on the health of democracy in these countries today. We will examine life under communist rule during that time as a whole, as well as focusing on particular events in the four cities we are visiting because there were key moments of resistance and uprisings in these cities."
The journey to Eastern Europe will begin in the classroom, with a class offered in each of the three professor's fields this spring, opening up the opportunity to students from more than just one major.
"We are offering the course for political science, art, or history credits, so almost any major can count the hours toward their degree. More importantly, this travel study will allow students to experience other cultures, languages, world views, foods, etc," Lewis continued.  "International travel of any kind is crucial to better understanding the wider world and your place in it, which is really the whole point of college!"
The professors first began their brainstorming with "the general idea of Eastern Europe in the Cold War", then disqualified far Eastern Europe points of interest to fit time constraints.
"So we focused on four cities which are closer together, but are countries not often visited (or not at all) on UTM travel studies," Lewis explained. "All four cities played key roles in resisting and eventually overthrowing communist rule in Eastern Europe."
Lewis believes the difference in a classroom and 'hands-on' experience in education to be monumental when understanding subject matter.
"Studying other people and cultures is important, but seeing the actual historical sites or artworks in person makes it so much more real. To see the very place where people died trying to escape the clutches of communism, for example, really drives home the fact that they were willing to lose their lives to reach freedom. That means so much more than reading about it in a textbook."
"Travel study is also about being immersed in another culture, which forces students to step outside of their comfort zones and what they've always known. Students can gain confidence by confronting the challenges that come with encountering other cultures, such as overcoming language barriers and participating in different customs. Once students have successfully managed such experiences, they have much more confidence when new challenges come along."
To get involved in the East Europe travel study, there are several steps interested students should go through. Students need to first complete and submit and application by Oct. 20 along with an interest form.  Lastly, they need to sign up for one of these Spring courses: FA 467, POSC 467 or HIST 468.
The leaders are also hosting an info session Monday, Sept. 25 at 5:30 p.m. in room 142 of the Fine Arts Building, which is open to interested students. For those that can not make the meeting, any questions regarding the travel study can be sent to coldwar_travelstudy@utm.edu.
The trip costs $3,950. This package includes lodging, activities and airfare as well as application and insurance fees.
"Students should keep in mind that they can pay for much of the trip through the recently increased SGA travel scholarships," she said.
The Travel-Study Scholarship can cover 30% of the total expenses of the Travel – Study, or up to $1,500 in fees. Funds for this scholarship are collected through the SGA Travel – Study Fee, and are distributed on a 'first-come, first-serve' basis. Applications for the scholarship can be found online, and needs to be turned in at Center for International Education, 124 Gooch Hall, by Dec. 4 at the latest.
"It's going to be a fantastic trip," Lewis said. "You will learn a lot, you will get to see four different countries, and you have a once-in-a-lifetime experience."
Lewis closed, noting, "How many of your college classes are you going to remember in 50 years? I guarantee you will remember this one!"
Photo of tram in Warsaw, Poland (Photo credit/pixabay.com).