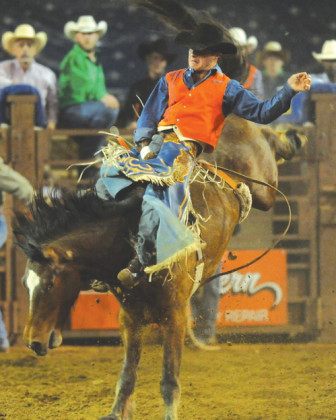 The 49th annual UTM Spring College Rodeo is coming into town on April 6-8, 2017.
The UTM Rodeo has won the award for Ozark Region Rodeo of the Year for 11 years in a row. The event will take place at the Ned McWherter Agricultural Complex, and will begin at 7:30 p.m. on Thursday and Saturday night, and 7:10 p.m. on Friday night. Thursday and Friday night will begin with the Weakley County 4-H Mounted Drill team, followed by Saturday night closing with the UTM Rodeo women's team and The Martin Paving Company Championship Finals.
For those who aren't familiar with the sport of rodeo, it's one that's rich with tradition. Rodeo didn't start with an idea from throwing or kicking around a ball; instead, it came from working people on the job. It's a sport that can trace its genesis back to the days of cowboys and cowgirls working on a ranch or out in the fields. In fact, the athletes are still called cowboys and cowgirls today in rodeo. Men and women who would be trying to break a bronco began making a competition out of it to see who could stay on the longest or who could rope a cow the best and quickest. Before they knew it, it was a sport of its own.
As a sport, rodeo is separated into roughstock events and timed events. Roughstock events, such as bareback riding, saddle bronc and the iconic bull riding competition, tend to be more wild and dangerous. The rider and animal pair is given a score by a panel of 2 to 4 judges. The rider can only hold on to the animal with one hand, if their free hand touches the animal or themselves they are disqualified. They must stay on the animal for 8 seconds to receive a score. Judges score both the rider and the animal from 1 to 25.
The timed events include steer wrestling, barrel racing, tie-down and team roping. A rider's score is based on the lowest time; in other words, how quickly they can get through their respective event.
The UTM Rodeo looks to be an exciting venue for all involved, including the cowboys/girls and the spectators. Thursday night is bargain night, with tickets priced at $6 at the door. Early tickets are already on sale until April 2.
For more information on ticket pricing and event information, call the ticket office at (731) 881-7207.
(Photo Credit/Sports Information)